Blog: From the School Board Chair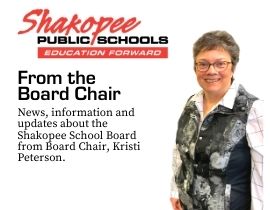 Education will always be the best return on your investment.

Posted by

Kristi Peterson

on

9/28/2020

Benjamin Franklin once said that an investment in knowledge pays the best interest. The best part about making an investment in education is that no one can ever take the education that someone receives away from them.

When you have a strong school district, you have a strong community. This is true from the smallest of communities to the largest. From the youngest learners to the oldest, we never stop learning. It is part of life. This is how we continue to innovate the world that we live in.

During the upcoming election season this Fall, the Shakopee School board is asking the community to make an investment in the education that the students in Shakopee receive thru a voter-approved operating levy.

This was not an easy decision to ask voters for addition funding at a time when members of our community have been faced with the many challenges associated with the pandemic. As a school board, we have all faced some of those same challenges.

The reality is that in order to maintain the same level of programming and opportunities currently offered to our students, attract and maintain high-quality teachers, and build long-term financial stability, our school district will need additional revenue.

Shakopee is not alone in this situation. We are one of 33 school districts across the state in 2020 asking their respective communities for additional funding to maintain the same level of services and programs currently offered. Did you know that Shakopee is one of only a few school districts in the State of Minnesota WITHOUT a voter-approved operating levy?

It is a known fact that state funding has not kept pace with inflation, along with several unfunded mandates from both the state and federal governments. If state funding had kept up with inflation since 2003, SPS would have received an additional $5 million in state aid in the 2019-20 school year alone.

The school board has already approved over $2 million in budget cuts (outside of the classroom) for the current year and 2021-2022 school year. Unfortunately, $5.4 million in additional budget cuts, which will impact the classroom, academic support, 5th grade band and middle school athletics, will result for the 2021-2022 school year without additional revenue coming into the district.

I encourage our community to review the SHAKOPEELEVY2020.ORG website for more information and facts about the upcoming ballot question from the school district. If you have questions, please reach out to the district office or any school board member.

Back to School quieter than normal

The excitement and anticipation surrounding the first day of school were more muted on September 8 with the smaller number of students being able to attend our buildings each day. All employees in our district have done a fantastic job preparing for the first day of school like no other. Hundreds, if not thousands, of hours were spent this summer working thru situations and scenarios to determine the best way to get students back into the classroom, with the health and safety of students and staff members a top priority. While some modifications have been made in parts of the back-to-school plan, our students and staff have done a tremendous job adjusting to the new normal associated with being in the classroom. Thank you, parents, for supporting your students through this challenging time.

This is also a challenging time for our teachers and staff as they modify learning models for this school year. They make a huge difference in the lives of all our students. Don't forget to reach out to them and tell them how much they are appreciated.

Remember, we are all in this together, and we will get thru these challenging times together!