Return to Headlines
Winter Weather Notifications
Shakopee Public Schools Weather & Emergencies: Where to get information: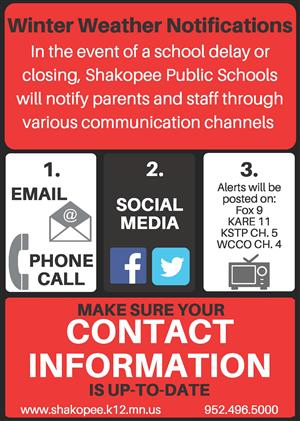 In the event of an emergency during school hours, or in cases of weather-related changes to the school day, it's important to know where to find accurate and up-to-date information. When determining whether to close or delay school due to weather conditions, we will examine each weather event on a case-by-case basis. In the morning, if weather causes school to be canceled or delayed, the decision is made by 5:30 a.m. Communication starts as soon as the decision is made. Here's how you can stay in the know about urgent situations that may affect Shakopee Public Schools:
· Automated phone calls and email notifications: School closings or delays are communicated through an automated phone calling service and email. Please make sure your contact information is up-to-date to ensure you receive important notifications from the district.
· Check our website, https://www.shakopee.k12.mn.us/ . The notice of a school closure, late start or early dismissal will appear on our home page as soon as the decision is made.
· Follow us on Twitter and Facebook. Not only will you get alerts, but you can catch glimpses of life inside our schools on regular school days.
· For weather-related changes to the school day, Shakopee Public Schools contacts Channels 4, 5, 9, and 11 as well as WCCO-AM. We contact news stations immediately after the decision is made, but have no control over when the message airs.
· Emergency Hotline: Call 952-496-5000
Other important reminders:
· Shakopee after-school activities and athletic events are generally canceled if school is not in session or if schools close early. Student-athletes should look for communication from their coaches and the activities office on whether practices are cancelled or delayed. The activities office will also post updates on its social media sites, website and, if in school, on its office windows.
· If bad weather develops in the afternoon, activities and Community Education programs may be canceled.
· YMCA school cancellation policy:
o If school is delayed 2 hours in the morning, AM programs at YMCA are cancelled
o If school get out 2 hours early, PM programs at YMCA are cancelled
o If school is closed due to snow, then YMCA program is cancelled
o If school is closed to due severe cold weather Sun Path is the YMCA's emergency release day program for registered participants only
The decision to close school is based on road conditions and the weather forecast. Our first priority is student safety. Parents always have the prerogative to keep children home or to pick up children from school if their assessment of the weather situation differs from the school district.