Return to Headlines
Exciting Opportunity with Youth in Government
Youth in Government is looking for participants for what's sure to be a great event this school year.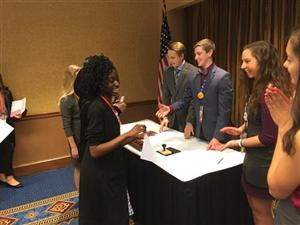 Model United Nations is a very similar simulation of the United Nations.
Jody Stone, a teacher at Shakopee High School and Youth in Government advisor says "it is a fantastic opportunity for students in grades 7-12 to gain new experiences, new talents, and new friends!"
Youth in Government is a national YMCA program that aims to develop personal growth and encourage life-long, responsible citizenship for young people by providing unique experiences and opportunities.
Just last month, dozens of students from Shakopee High School, West Junior High and East Junior High recently attended the Youth in Government 2017 Model Assembly. Shakopee students gathered at our state capital with approximately 1,600 students from across the state.
If you would like to learn more about Model United Nations, you're encouraged to attend the upcoming information meeting.
It will be held Tuesday, February 7th at 6 p.m. at the River Valley YMCA.