Return to Headlines
Celebrating Diversity within English Learners Program
A diverse student body is something to be celebrated. Shakopee Public Schools does just that with the English Learners (EL) program.

It's designed for students who demonstrate a non-native proficiency in English, although the students themselves may or may not be fluent in their heritage language. The EL program focuses on listening, speaking, reading and writing English.

Students who register with a heritage language other than English will be tested using a language proficiency assessment. Students who demonstrate a proficiency lower than five in listening, reading, writing and/or speaking will be invited to the EL program. The EL program has several models that are implemented throughout the district, which include: pull-out, co-teaching and push-in.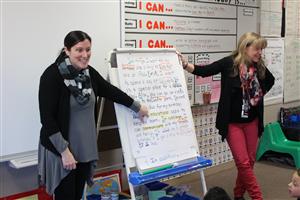 The district has 25 EL teachers who work in all of the schools. "We have language development needs at every level in the district," said Myrlene Schenck, EL Program Coordinator. "We welcome students from different countries and we are happy to have the unique opportunity to learn from different cultures while developing our students' linguistic skills."
EL teachers implement all the program models in a day, in order to meet the needs of all students. "Certain students, I feel it is more important to pull them out and have that direct language instruction," said Karen Hislop, EL teacher at Sun Path Elementary. "Certain students, I feel, benefit from being in a co-taught classroom. I do some small group. I might see kids every other week in specific areas. I might see them every day for a half hour. I might see them in the classroom, but I may
also pull them from the classroom if I notice a certain need."

Hislop co-teaches with Stacy Sabby, a second grade teacher at Sun Path Elementary. "We've tried a lot of different things over the years with the different language levels of the kids," said Sabby. "It's been a lot of fun. Karen teaches me things as a teacher to think about that I wouldn't normally consider, especially with the language piece. I've learned so much and I'm able to bring that back to my 2nd grade team."

Hislop and Sabby have been teaching together for nearly a decade.

They recently worked on a writing lesson and challenged students to write evidence behind their claims. "We are able to play off each other," said Sabby.

They work closely together to develop co-taught lessons that concentrate on language development. Sabby covers the curriculum aspect and Hislop concentrates on how to make that lesson most impactful for EL students.

They both agree that co-teaching and focusing on clarity for English learners and students who are not EL benefits the entire classroom. "I think it's good for all students," said Hislop. "As they move forward in writing they need to know transition and academic words and if they aren't exposed to that now, that's going to make it more difficult later."

Hislap and Sabby are just two of the teacher pairs in the district who concentrate on our EL students. "We put our heart and soul into it, until they don't need us anymore," said Hislop.

To learn more about our EL program visit their website at: shakopee.k12.mn.us/domain/52