Return to Headlines
CAPS Interns Gain Real-World, Authentic Experiences
May 15, 2017
The benefits of internships are endless, especially if you're a high school student still exploring and mapping out your goals for the future.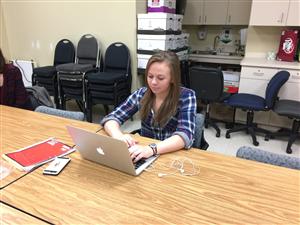 According to CareerBuilder.com, internships allow students to network, establish relationships with mentors, accumulate new skills and gain real-world perspective for their desired career.
For the past four months, our CAPS students have received those opportunities.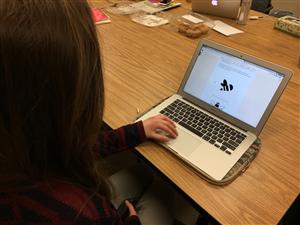 The CAPS Program is an elective program for juniors and seniors at Shakopee High School that immerses them into authentic career experiences with the help of local business partners. Students earn dual credit with Shakopee High School and Normandale Community College.
49 students are participating in this year's CAPS internship program. The district has partnered with several businesses include the YMCA, the City of Shakopee, Valleyfair, Shutterfly, Mystic Lake and O'Brien Dental Care. One group, with students Meghan Kilkelly, Melody Masard, and Hanad Muse, is concentrating on digital design and business and entrepreneurship. The students are interning at the district office.
Meghan and Melody's focus is digital design, while Hanad concentrates on business and entrepreneurship.
They're working on an exciting project.
"In partnership with the Threads for Teens boutique, they're working on branding, website, logo, social media marketing materials, and logo enhanced clothing," said Internship Supervisor and Digital Learning Coach Sandra Riehl.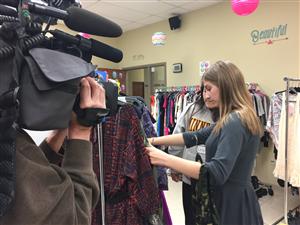 Grace Myler and her mother, Katie, operate Threads for Teens.
The free clothing boutique, located at the Shakopee Public Schools district office, serves girls ages 13-21 who are in foster care, at risk, in homeless situations or come from low-income families.
"To help Grace and Katie fundraise and promote the boutique, our CAPS interns have met with them, and conducted brainstorming sessions," added Riehl.
They've put in hours of work in internship time to help finish the project.
Grace and Katie plan to start a new company to help them fundraise and increase support for Threads for Teens.
"I'm feeling the pressure a little bit," said Kilkelly. "I'd like to pursue marketing or some sort of graphic design field. It's super cool to be a part of this when I'm still in high school. It's an experience a lot of people don't have."
The students have been working on the Threads for Teens project for about two weeks. "Creating the name of their company is something we're struggling with, but we've come up with a few ideas," added Kilkelly. "It's still a work in progress."
In addition to Threads for Teens, the CAPS interns also designed an ad for a veterinary event that appeared in the April 2017 edition of the Midwest Monthly magazine.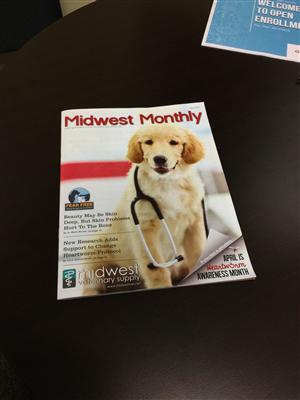 "At first, we thought it was going to be a simple invitation," said Masard. "Then, we learned it would be printed in the magazine. It was very exciting." We tried to design something that was bold and eye-catching, yet suitable for the clients and the audience."
Between her family and friends, Melody said it's been hard to keep a copy for herself. "I originally had three. I gave some away. Now, I have one."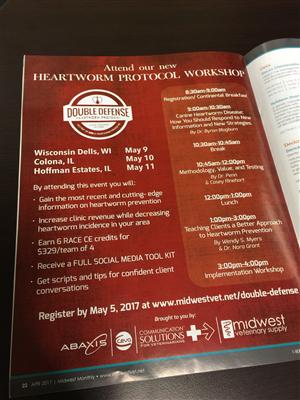 The CAPS internship program is the second semester of the CAPS experience. Over the past several months, students have met for their internships Monday, Tuesday, Thursday and Friday between 8:20 a.m. and 10:30 a.m.
They say it's been time well spent.
"At first, I thought it was going to be a really complicated and scary class since we have to do projects," said Muse. "I was kind of nervous. Now that I've experienced it, I'm glad I took on the adventure."
Meghan, Melody, and Hanad are all seniors at Shakopee High School. When they walk across the stage to receive their diplomas on May 27 and transition into the next stages of their lives, the CAPS experience is one they'll always remember and cherish.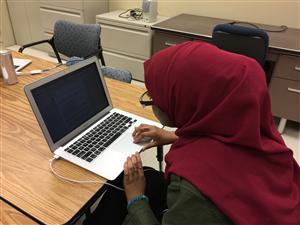 "At the beginning of the year, I really had no idea what I was doing,"said Kilkelly. "CAPS has really helped me figure out what I want to do with my life outside of high school. I knew I wanted to attend college, but I didn't know what I wanted to pursue. This has really helped me refine my goals. "It's been a great experience."
Visit our website to learn more about the
Shakopee CAPS Program