Return to Headlines
Legion Sponsors Student Trip to State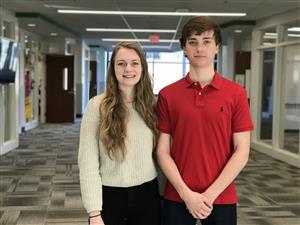 Two Shakopee High School students will experience the ins and outs of our government. It's part of the American Legion Boys and Girls State program. Zoe DeWitt and Kynan Reynolds, both juniors, were chosen to participate in the week-long program.
For about 70 years the American Legion Auxiliary has sponsored and operated the program. Students from throughout the state will attend the camp where they will form city, county and state government offices. They will vote for and carry out elected and appointed positions in government.
Erin Hunt, a social studies teacher, runs the program at Shakopee High School and works with the students on the application process. "Our department decided this would be a priority and it would be a great opportunity for community involvement," said Erin Hunt.
Every year, the Shakopee Legion generously supports the program by giving two students a scholarship. "It was very generous of our Shakopee Legion to reach out and give our kids a chance to go," said Hunt. "Our students have an incredible opportunity. We are grateful."
Both students are looking forward to packing their bags for a week of learning and growing.
"I'm involved in Youth in Government so I've already had some experience with government," said DeWitt. "I'm also thinking of pursuing a career in government. I think it will be fun to meet new people with similar interests."
"Both of my parents have worked in government in the Marine Corp, so I've grown up with it and enjoyed learning about and being around the process," said Reynolds. "My future plans involve working in government and I'm hoping to get some experience and some context."
The camp begins on June 10.