Return to Headlines
Sun Powering Education at Eagle Creek and SPS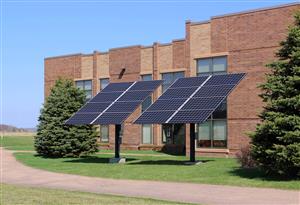 Thanks to our partners for providing a great educational tool at Eagle Creek Elementary. A new solar array was installed at the school. Read more in the press release from the Minnesota Municipal Power Agency:
June 12, 2018 – The sun is powering a new learning tool in Shakopee. An educational solar array provided by the city's wholesale electrical supplier, the Minnesota Municipal Power Agency (MMPA), is now operating as part of energy education programming for Shakopee Public Schools. The array is located at Eagle Creek Elementary School.
The 5 kilowatt installation is part of MMPA's Hometown Solar Grant Program – an extension of its Energy Education Program for its 12 member municipalities. The Shakopee solar array provides an opportunity for students and residents to learn about the characteristics and benefits of solar power. Information and data from the solar panels will be shared among Shakopee schools to support energy education in the classroom.
"We are extremely grateful and thrilled to partner with the Minnesota Municipal Power Agency," said Josie Koivisto, Principal at Eagle Creek Elementary. "Thanks to the grant, our students will learn first-hand how sunlight is converted into electricity and about the unique characteristics of solar power."
Koivisto said that the solar project fits into the district's Education Forward approach. She said thanks to a newly created website, parents will have the chance to follow along as their children learn about renewable energy.
"We are thankful for this opportunity," she said. "None of this would be possible without the support of MMPA."
John Crooks, Shakopee Public Utilities Manager and Chairman of the MMPA Board of Directors, said, "Hometown Solar is a great demonstration of how the Agency provides value to our member communities." Since 2010, MMPA's Energy Education Program has provided learning opportunities for more than 15,000 elementary school students in its member communities through classroom information, in-school assemblies, and tours. Shakopee Public Utilities has served area residents since 1902. The utility serves more than 17,000 residential, commercial, and industrial electric customers.