Return to Headlines
Shakopee Public Schools to be Named Ford Next Generation Learning Community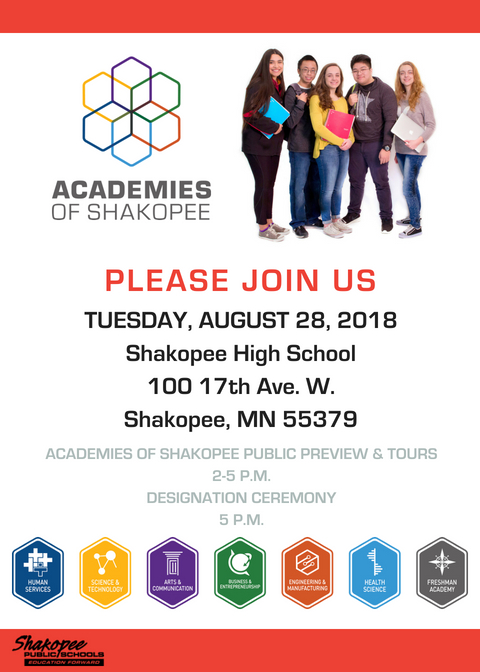 On August 28, 2018, Shakopee Public Schools will be designated as a Ford Next Generation Learning Community. The key to this designation is the district's commitment to align community resources to support the growth of the Academies of Shakopee with the vision that every high school student will graduate college and career ready, which also includes community college, technical schools, and apprenticeship programs.
In the 2018-19 school year, the expanded Shakopee High School will open after doubling in size. The Academies of Shakopee will provide students with a welcoming, inclusive environment within a large high school setting by forming small learning communities. "Small learning communities date back to the 1960's," said Director of Teaching and Learning Nancy Thul. "Since that time, research supports positive outcomes such as small learning communities resulting in improved attendance, reduced behavior issues, increased sense of belonging, increased graduation rates, and achievement gains for all students." There are a number of Minnesota school districts that have implemented or are looking to implement some aspects of the academy model. It has become a national trend in recent years.
There will be six academies: Arts & Communication, Business & Entrepreneurship, Engineering & Manufacturing, Health Science, Human Services, Science & Technology and the Freshman Academy. Our district will partner with local businesses to provide students with real-world authentic learning experiences in their selected academy. They will have the opportunity to participate in internships, job shadows, and career exploration activities. This will help improve readiness for college and careers.
"As an accountant, I see several young adults starting their careers with the burden of increased student loan debt and not able to find a job to financially afford the debt," said Megan Menden, who serves on the Academies of Shakopee Steering Committee. "They usually end up battling these payments for several years. Sometimes, it begins to affect other aspects of their lives. I see blue-collar businesses and trade industries closing because they cannot find enough good, quality laborers to keep the doors open. If students are able to explore careers first, it will allow them to reach their full potential without costly mistakes."
"Our academy model is about changing the conversation and having our schools acknowledged as an innovator of education on a national level," said Shakopee High School Principal Jeff Pawlicki. "The Academies of Shakopee will be a combination of traditional learning and state standards with a twist."
Administrators and teachers have worked over the past three years to reach the official implementation and designation. "Their efforts have been a culmination of commitment and dedication to get us to this point," said Superintendent Gary Anger. "Our administrators and teachers researched models nationwide to determine the best approach for Shakopee. Several were explored and ultimately we selected the academy model. FNGL is a network of academy model high schools across the country. We are proud and fortunate to affiliate with them, but ultimately the Academies of Shakopee will be customized to our district and our community."
In order to be designated a Ford NGL community, Shakopee developed a three-year master plan to ensure that all high school students are learning in career academies and the structures and processes are in place to engage local and regional employers and civic leaders in supporting and sustaining these academies.
Ford NGL communities have demonstrated success through higher graduation rates, increased academic achievement, lower dropout rates and industry certifications earned in high school. Districts in the Ford NGL network have shown increased student engagement at both the high school and postsecondary levels, developing more robust ties between educators and local employers, generating a stronger talent-development pipeline for high-demand careers and boosting community prosperity. Through the Ford NGL process, districts and their communities become partners and align their resources to improve student outcomes and support the region's workforce and economic development needs.
"Ford NGL research has proven that community ownership and accountability is just as important to educating our children as good study habits and hard work," said Cheryl Carrier, executive director, Ford Next Generation Learning. "The Ford NGL partnership gives students and teachers a competitive edge that improves their chances for future success and will benefit the workforce and economic development needs of a region for years to come."
In 2017, Ford Motor Company Fund invested more than $18 million in scholarships and other innovative education initiatives, such as Ford NGL.
About Ford Motor Company Fund
Ford Motor Company Fund is the philanthropic arm of Ford Motor Company. Established in 1949, Ford Fund invests in transformational programs that advance innovation, empower people, promote social mobility and improve community prosperity. Ford Fund works with local and global partners to create opportunities in education, encourage safe driving, enlist employee volunteers and enrich community life. Ford Fund's signature programs include Ford Blue Oval Scholars, Ford College Community Challenge, Ford Driving Dreams, Ford Driving Skills for Life, Ford Next Generation Learning and the Ford Volunteer Corps. For more information, visit http://community.ford.com, or join us on Facebook at @FordFund and Twitter @FordFund.
EVENT: Academies of Shakopee Preview | Shakopee High School Tour | Designation Ceremony
WHEN: August 28, 2018
Academies of Shakopee Preview and Shakopee High School Tour | 2 p.m. to 5 p.m.
Ford NGL Community Designation Ceremony | 5 p.m. to 6 p.m.
WHERE: Shakopee High School
100 17th Avenue Shakopee, MN 55379


PRESS CONTACT: Crystal McNally, Shakopee Public Schools Communication Specialist
952-496-5036