Return to Headlines
2018 Marks 8th Year for High School Exchange Program
OCTOBER 5, 2018 - For two weeks, Shakopee students and their families opened their homes to 31 students and two teachers from Foz, Spain.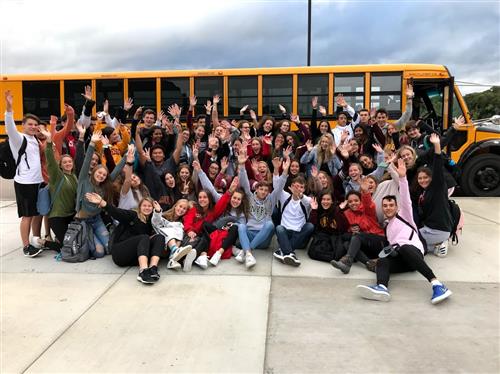 The group was here as part of an exchange program that Shakopee Spanish teachers have coordinated with the same sister school since 2005.

During the school day, the students attended classes, gave presentations and toured the Twin Cities.

"Students from our sister school in Foz, Spain come to Shakopee to understand and experience our culture in a way that can't normally be done in typical travel because they live with a family that treats them as one of their own," said Rachel Beran, Shakopee High School Spanish teacher. "Students are not only immersed in language but also a family value system. Many made comments about not even really recognizing their own cultural habits and values until seeing it through the eyes of our exchange students. Through shared experiences, families also formed incredibly close relationships over the two-week period."

The exchange students also attended Minnesota Twins games, enjoyed bonfires, and visited the corn maze during the evenings and on the weekend, just to name a few.

"All of the exchange families clearly benefit, along with both the Foz and Shakopee communities," added Beran. "Foreign students take part in class discussions, present to classes about their customs and town, and are active members at school and in the community during their time here. Our language students have the opportunity to practice Spanish with native speakers who are interested in sharing their language, while other classes benefit though the sharing of perspectives and life experiences."

Through the exchange program, the students form lifelong friendships, which makes it even harder to say goodbye. On the day the Spanish students left, many families took to social media to express their sadness about the journey coming to an end.

One person wrote, "What an amazing group of kids! We were all blessed to have them!"

Another comment read, "Our entire family enjoyed this experience! It's crazy how attached you can become in two weeks. The whole family was teary this morning."

"While it was hard to say goodbye, our students will be reunited with their exchange partners when they head to Spain in June 2019," said Beran.

In addition, multiple students and families travel to visit each other outside of the program. And, thanks to technology, it's easier for the students to stay connected.