Return to Headlines
Students Explore the Future at SHS College & Career Readiness Day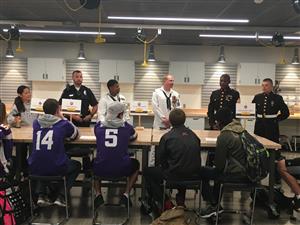 OCTOBER 5, 2018 -- Shakopee High School hosted College and Career Readiness Day on the first early release day of the year. The 10th grade students took a pre-assessment for each test in the ACT, while 11th graders took the practice ACT test online.
The shortened day presented a great opportunity for 9th and 12th graders to explore and plan for their futures.
The 9th graders left the high school building and visited a local business. Throughout the morning, rotating tours arrived at Apple Autos in Shakopee. The company is the Academy Champion for the Freshman Academy.
Students got an up-close look at various careers and toured the finance, mechanic, service and detailing departments. They also learned how each position could tie into an existing academy at Shakopee High School.
Apple Autos Sales Manager Paul Talbot led students on the tour. "This is super exciting. They get value out of this," said Talbot. "It's always neat learning about a dealership and how it works. I've taught classes in Shakopee before on the subject of 'How to Buy a Car' and I'm passionate about this organization. We always take care of our customers and I love sharing our business values with others, especially students."
As part of the tour, students received swag bags, water bottles and Freshman Academy t-shirts but said what they enjoyed the most was the authentic learning experience.
"It's pretty cool and interesting," said Freshman Aaron Lee. "We get to take part in these new experiences in the academies, and learn about different careers."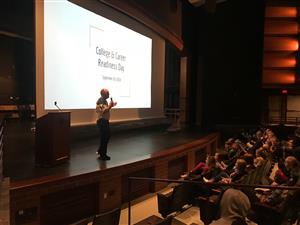 While half of the 9th graders were away, the other half enjoyed entertainment from the Minneapolis-based comedy group Comedy Sportz. The team building exercise had the laughs vibrating the halls of the high schools as students participated in comedy skits and games.
The seniors also spent the day preparing for their future. "Our students have 150 days left until graduation and they need to go out the door," said Ed Cox, Academy Principal at Shakopee High School. "We need to make sure they're prepared. We do lots to get them academically prepared, but we need to get them ready for what's out there for them."
Seniors had the opportunity to choose and attend two different educational sessions on the transition after high school. There were a variety of topics covered including applying for college and scholarships, opportunities in the workforce, financial literacy, and how to find resources after high school.
The sessions featured guest speakers from current and past military personnel, HomeTown Bank (Academy Champion for our Business and Entrepreneurship Academy), and union skilled trade representatives such as an electrician, a plumber and carpenter.
While the high school hosts this event each year, this was the first year 9th graders participated and the first year it was held on an early release day.