Return to Headlines
Burgers Sizzle at SHS for the Jucy Lucy Challenge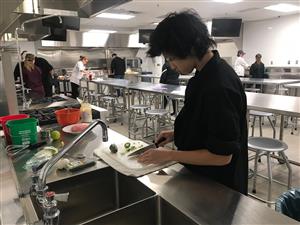 NOVEMBER 2, 2018 -- When the bell rings for the Culinary 2 course at Shakopee High School it's not take out your books, it's get your spatulas ready. This fall, the class is partnering with Valleyfair for the "Jucy Lucy Challenge." The students created their own special Jucy Lucy recipe in hopes of winning the challenge. The winners will have their burger featured at Valleyfair in June 2019 at their Minnesota Eats Food Festival.
"I am making a Jucy Lucy with swiss cheese in the middle and bacon wrapped around it," said Autumn Theis, senior at Shakopee High School. "I'm going to top it off with mushroom sauce and caramelized onions. I always liked mushrooms and swiss together."
Chefs Dave Whitmer and Skye Spicer from Valleyfair helped the students prep and pre-cook their Jucy Lucy burgers. "If they are just coming to class, and it's here make this burger, that's a good thing, to understand that concept," said Chef Whitmer. "But if they are doing something that has motivation behind it, like this challenge, it brings out their passion and it brings out their creativity."
Students working side-by-side with the professionals say that motivation makes lessons more enjoyable. "If you are doing it for Valleyfair, instead of just class, you gotta make sure it's perfect so you can win," said Theis.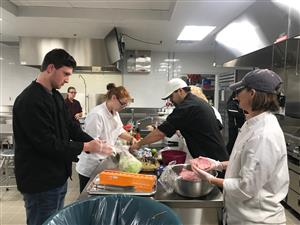 "In our field, and especially at Valleyfair, we rely on the young talent pool," said Whitmer. "It's a great opportunity for us to work with the students and invite them in to be a part of our food service program or any of the other fields like science, technology, math, marketing, and sales. It's very important to us to develop those relationships."
The class also plans to partner with Valleyfair in the spring to create a hotdish for the festival.