Return to Headlines
Two Shakopee High Seniors Celebrating Multiple Scholarship Offers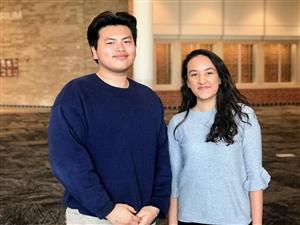 MONDAY, MAY 6, 2019 -- Tri Nhan Pham and Himani Joshi were both accepted to the University of St. Thomas and offered full-ride scholarships, through the GHR Fellows program. The program only awards ten scholarships every year that include: full tuition and fees for four years, fully-funded study abroad experience, customized professional coaching and mentorship and leadership development opportunities as well as internships with Fortune 500 business executives and community leaders. The students are both interested in pursuing business degrees after a few key experiences at Shakopee High School.

"One of the biggest things that helped me get to where I am right now is the CAPS program," said Pham. He also has another full-ride scholarship offer to attend Gustavus Adolphus College. "CAPS offered me so many opportunities and experiences and I actually really got to grow as a young business professional."

"I ended up joining DECA and had no business experience or knowledge," said Joshi. "That first year, I managed to get the international competition and I realized that it might be something I was good at and cater to my strengths. I ended up joining CAPS too. And now, I'm learning what I want to do within the business world."

DECA is a program that prepares emerging leaders and entrepreneurs for careers in marketing, finance, hospitality and management. The Shakopee CAPS (Center for Advanced Professional Studies) is also offered at Shakopee High School. Students are emerged into the business world through real-world projects and internships. The programs are just a few of the things our students can get involved in to further their skills.

"The interview for the GHR Fellows Scholarship, I would have completely bombed it, if I didn't have all the skills and experience from CAPS," said Pham. "Shakopee High School has a lot of opportunities to grow and be involved in the community."

The future is bright for Joshi and Pham. Joshi will be accepting the scholarship and attending St. Thomas, while Pham is still deciding where he will attend school.