Return to Headlines
Design Process in Action for SHS Course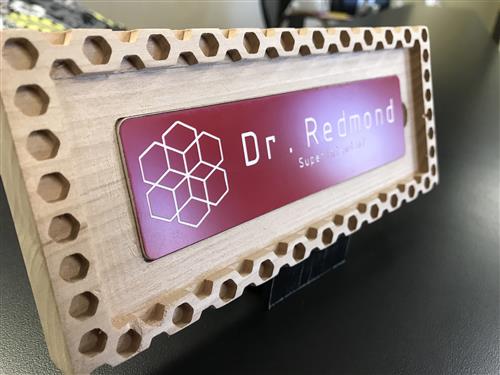 MAY 14, 2019 -- Students in the Computer Integrated Manufacturing Class at Shakopee High School are putting their engineering, design and communication skills to use in the real-world. They're participating in the 'Name Plate' project, which has been a cornerstone for the class for the past four years.
"Shakopee schools are growing in size," said Rob Mainhardt, technology teacher at Shakopee High School. There are more teachers and other staff in each building and because of this it is hard for students, parents, and other faculty to remember everyone's name."
And with that small idea, the 'Name Plate' project was born and it's been putting students' skills to the test. The students start with their own name plate prototype using a modeling software on the computer. Then, their design comes to life with CNC machines and laser engravers. But, the project doesn't stop there.
"Their real-life model of their computer-generated design is then brought to students and teachers in the building for feedback," said Mainhardt.
Once they see areas of improvement and what they did that made their design stand out, the students get into groups and create a new design and then a mock company. The company then pitches computer-designed products to a panel of district school representatives who choose a winner of the design challenge.
"It's so important for these engineering students to go through this process because this is how products are made," said Mainhardt. "It takes not only individual ideas, but the work of a team and many hours determining what doesn't work until you finally find a way to make it work."