Return to Headlines
Inclusive Engineering Project Provides Unique Learning Experiences for Students
MAY 17, 2019 - Our 3nd annual Inclusive Engineering Project has concluded with another successful year in the books.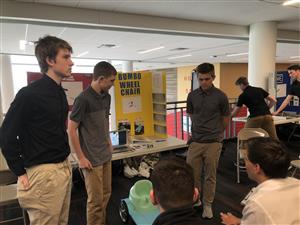 70 students from the Introduction to Engineering Design (IED) classes at Shakopee High School met with 20 younger students, also known as "clients", in special education programs from Central Family Center, Eagle Creek Elementary, Red Oak Elementary, Sun Path Elementary, East Middle School, West Middle School and the high school to learn how their physical needs impact their school day.
In an effort to assure all students can access multiple learning environments in their school, home, and/or community settings, student engineers created a tangible product for the student clients.
Thanks to students from the IED classes, clients, case managers, related service providers, and parents, the project created meaningful collaboration between students and special education while also demonstrating communication, advocacy, and disability awareness skills.
Students participating in the project learn about disabilities and how it impacts individuals across multiple settings, apply real-world problem solving strategies by researching, planning, and designing a prototype, demonstrate communication skills within their target group to evaluate and modify prototype, and develop a final product for a real-life client.
The clients, with the help of parents and case managers, apply self- advocacy and disability awareness skills to describe their physical impairments, engage in the planning and development of the product, practice communication skills to discuss pros and cons of the product prototypes, as well as utilize the final product during their classroom, home, and community activities.
Shakopee High School students Ryan O' Connor, Jack St. George, and Quinten Snell created what they call a "bumbo wheelchair". It includes an upright seat that is soft, waterproof, and easy to clean. It also provides support and encourages good posture. The seat is connected to a base with wheels.
In their presentation, they said they "wanted to find a solution for kids who want to be close to the ground in their wheelchair. Using the bumbo wheelchair, users are able to reach the ground to pick up their toys and other objects, while remaining in their wheelchair." Their project was one of many showcased at the Engineering Technology Fair earlier this month at the high school. IED students presented and clients demonstrated the product. It was also a chance for engineer students to receive feedback.
"The Inclusive Engineering Project provides collaboration and exposure to diverse experiences
for all students," said Julie Phillips, Physical & Health Disabilities and Assistive Technology Consultant for Shakopee Public Schools. "Through this experience, students work together, create meaningful relationships, and make a difference in the learning for all.
This is the third year that the class has participated in this project.