Return to Headlines
JUNE 11, 2019 - Beginning on June 24, members of our community may receive a phone call asking you to participate in a survey about Shakopee Public Schools.
Participation in the survey is important. In an effort to improve how Shakopee Public Schools serves our community, we want to hear from you. Please note, as in any phone survey of this nature, not everyone will receive a call.
Survey respondents are randomly selected by the survey experts working for Baker Tilly, the company Shakopee Public Schools has contracted with to provide survey services.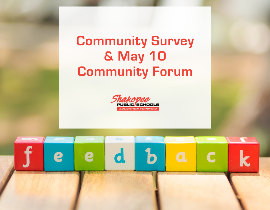 The phone interviews conducted by Baker Tilly will include 35 questions and take 12-15 minutes to complete. The interviewer will ask questions about the performance of Shakopee Public Schools and ask for opinions and feedback on various district programs, initiatives and practices.
A total of 400 interviews will be completed. This type of survey typically has a +/- 4.86% margin of error. The interviewers will call using phone number 651-318-0284.
This community survey will establish a benchmark for community feedback about Shakopee Public Schools. This year's survey will be followed by annual surveys in 2020 and 2021.
Thereafter, surveys would be conducted every two-three years. Results will be shared with our school community in a series of public forums, and via other forms of communication.
For those of you contacted to participate in the phone survey, I thank you in advance for your time and willingness to help us better serve our community. Go Sabers!
~Mike Redmond | Shakopee Public Schools Superintendent~