Return to Headlines
Project Lead the Way Gives Students The Opportunity to Solve Real-World Problems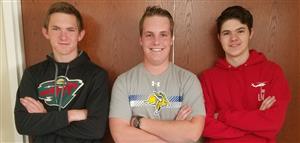 AUGUST 14, 2019 -- Project Lead the Way is a recognized program across the country. In Shakopee, it's transforming learning. Matt Anderson, Davis Bain, and Justin Diede have been in the pre-engineering program since middle school. Now, the three seniors are headed off to college with a portfolio beefed up by their senior capstone project.
Technology Education teacher TJ Hendrickson tasked the senior students in the Engineering Design and Development class with finding a real-world problem, proving it's a problem and then working to solve it. With their love of fishing in mind, the students paired up with a local company that manufactures fishing skirts. The company pitched its problem; the inefficiencies of manufacturing its banded skirts.
"Our job was to make a machine that would band the skirts," said Diede. "This company works in Vietnam and when they work there's a consistency problem. The workers take the skirts home to assemble and the company isn't sure when they'll return with the finished product. Our solution had to be factory-based and more consistent."
After months of hard work, refining designs, going back to the drawing board, designing and planning, the students presented their final prototype to the company. The company was very pleased with the automated fishing skirt bander. And, the students were also happy that they were able to invent a prototype that would help in the real world.
"Throughout this process, I learned how to work in a group and be better group mates," said Anderson. "I also learned what it takes to be an engineer. If I end up choosing this path, I have a good idea of what I'll be doing on a day-to-day basis."
All three students plan to attend college and study engineering. "What I enjoy about this class is the fact that students follow their passions in engineering," said Hendrickson. "Many colleges look at the class and say this is as close to the 'real thing' that helps students be successful and take advantage of the real world/life problems that make them successful not just now, but far into the future."