Return to Headlines
Summer Maintenance Projects
JANUARY 28, 2020 – This summer, Sweeney Elementary School and East Middle School will receive upgrades and repairs as part of the district's long-term facility maintenance (LTFM) ten-year plan and a new energy efficiency program.
The LTFM plan is a prioritization of deferred maintenance projects needed to protect the public investment in district facilities. The prioritization is done through a physical assessment of all district facilities in coordination with district maintenance staff. The LTFM expenditures are restricted funds that must be used for this type of work.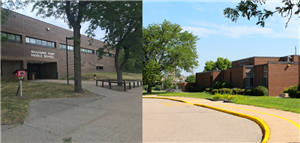 The energy efficiency program, which benefits all of our schools, was approved by the school board in October. It funds necessary improvements, that are ineligible LTFM expenditures, and is budget neutral over the 15-year term of financing. In other words, the entire cost of borrowing to fund the improvements is guaranteed by the revenue generated via energy savings.
The heating, ventilation, and air quality systems (HVAC) and bathrooms will be upgraded at Sweeney. Windows and doors will also be replaced. At East Middle School, an upgraded HVAC system, roof work, carpet replacement, interior door replacements, and installing updated energy-efficient boilers are also on the list. The work is expected to start in June and continue through the end of August. The majority of both schools will be closed to the public. However, staff will still be accessible, if help is needed over the summer. Sweeney's front office will be relocated to the school's library. Information on the relocation for East front office staff will be shared once finalized.
"It's very important for us to consistently perform these types of upgrades and repairs to our schools," said Buildings and Grounds Manager Ed Zeimet. "The better we care for our buildings, the longer they will last."