Return to Headlines
Students LEAD at Shakopee High School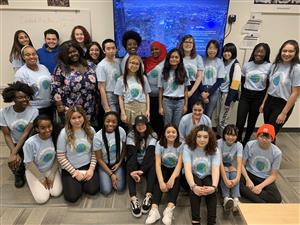 MARCH 2, 2020 -- A student group at Shakopee High School is leading efforts to raise awareness about different cultures, while shining a spotlight on the needs and perspectives of students from diverse backgrounds. The group is called LEAD, which stands for Leaders in Equity and Diversity. The students meet once a week and explore different ways to promote equity and diversity at Shakopee High School.

Recently, they spent time researching the achievement gap. Following discussion, the students split into small groups, and brainstormed ways to close the achievement gap. They then presented their ideas and perspectives to high school administrators, and staff.

"We spent a month researching solutions for the achievement gap," said Mildred Agyapong, a 12th grader and the president of LEAD. "I challenged every group to come up with a unique solution to solve the issue; specifically at the high school."

One idea included having students, who speak multiple languages, tutor fellow students who may need extra help. Another idea was encouraging students of color to take higher level AP courses, and hiring more teachers of color.
The Minnesota Department of Education defines the achievement gap as the differences in academic performance between groups of students. Most commonly, gaps are evident based on race, ethnicity, socio-economic status, gender and disability. Reducing gaps in achievement and ensuring all students are performing at high levels are critical to the social and economic well-being of Minnesota, cites the state department of education on its website. "By the year 2020, 74% of all jobs in Minnesota will require some form of education beyond high school. It is imperative that all Minnesota children are well-prepared for college and career. We need to invest wisely in our students so achievement gaps are closed, the workforce is highly educated and all Minnesotans can compete in a global economy."
Shakopee High School is made up of a diverse group of students with 12.5% of students identifying as Hispanic or Latino, 12% Asian, 10.8% Black or African American and 5.3% two or more races.
"We need to be able to use our voice and express ours needs and that is very important," said Agyapong.

This year, LEAD also spearheaded a donation drive for Esperanza over the holiday season, as well as organized and performed in the Diversity Talent Show. LEAD will also host a Culture Fest later this school year.