Welcome to Shakopee Public Schools
Return to Headlines
Shakopee Public Schools Selects Next Principal of Eagle Creek Elementary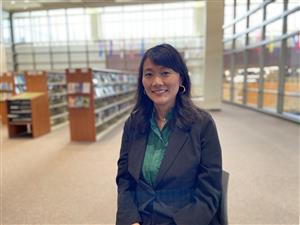 Stephanie Baker to Join the District July 1, 2022
Issued April 18, 2022, Updated May 17, 2022
Shakopee Public Schools, which has five elementary schools within the district, has selected Stephanie Baker as the next principal of Eagle Creek Elementary, as approved by the school board on April 25, 2022. The current principal, Josie Koivisto, who has been with the district since 2012 and deeply committed to her role within the community, submitted her resignation effective June 30, 2022 (as approved by the school board on February 22, 2022).
Ms. Baker has over 22 years of experience in public education and is presently the Associate Principal at Oak Point Elementary in Eden Prairie, a district she has been with since 1999. During her time at Eden Prairie Schools, Ms. Baker served as a paraprofessional, teacher, districtwide coordinator and most recently as an associate principal for the past 4 years (including Cedar Ridge and Oak Point Elementary Schools).
Ms. Baker has a Master of Arts in Elementary Education from the University of Minnesota - Twin Cities as well as an Administrative License from the University of St. Thomas and a Bachelor of Arts degree from St. Olaf College.
"We had a tremendous pool of applicants for this principal position. At the end of a lengthy and comprehensive process, Stephanie Baker was the most outstanding candidate," shared Superintendent Mike Redmond.
During her series of interviews, which included a panel of district administrators, Eagle Creek Elementary teachers and staff and a parent, Ms. Baker shared a strong desire to positively collaborate with teachers, staff and families, and continue to foster a welcoming, inclusive and caring environment where all students can thrive.
"I am excited to join Shakopee Public Schools and the Eagle Creek community. I've lived in the Twin Cities my entire life and love how Shakopee continues to grow while maintaining its sense of community," shared Ms. Baker. "It's been inspiring to hear and see how everyone at Eagle Creek Elementary is so passionate about meeting student needs. Together, we will continue to ensure every student can reach their highest potential in a fun and supportive environment."
An additional communication, which will include a "get to know" Ms. Baker video, will be sent to the Eagle Creek Elementary community in the coming weeks, pending school board approval.