Welcome to Shakopee Public Schools
Return to Headlines
Shakopee Public Schools Selects Next Principal of East Middle School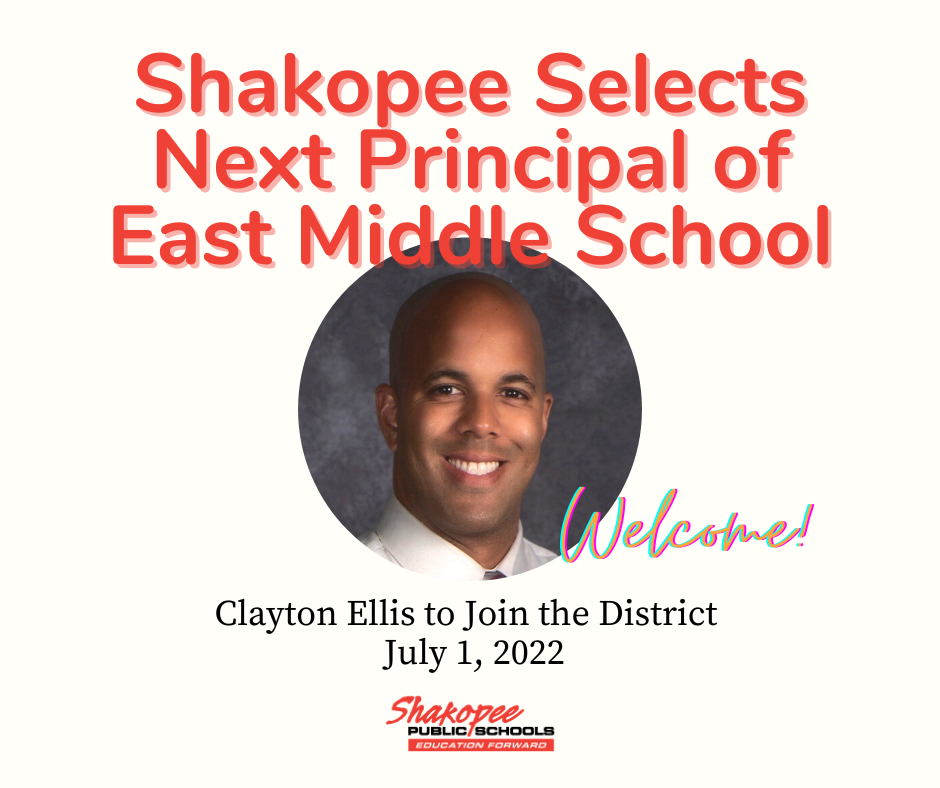 Clayton Ellis to Join the District July 1, 2022
Issued June 16, 2022
Shakopee Public Schools has selected Clayton Ellis as the next principal of East Middle School, pending school board approval on June 20, 2022.
Mr. Ellis has extensive experience in public education and is presently an Associate Principal at Eden Prairie High School, a district he has been with since 2018. During his time in Eden Prairie Schools, Mr. Ellis also served as an Associate Principal at Oak Point Elementary. Prior to that time, Mr. Ellis held the role of Dean of Students at Valley View Middle School in the Bloomington Public Schools District, which is the same district where he taught and attended elementary through high school.
Mr. Ellis has a Master of Education from Saint Mary's University of Minnesota as well as an Administrative License and Bachelor of Science degree from Minnesota State University - Mankato.
"Our interview teams spent time carefully evaluating each candidate, all of whom were very talented. Mr. Ellis' experience, ability to connect to students, expertise in student learning, as well as staff development, will allow him to excel in this role. We are beyond pleased that Clayton Ellis is joining our district's leadership team," shared Superintendent Mike Redmond.
Mr. Ellis has spent much of his educational career focused on providing support to secondary students, families and staff, which is a passion he shared during interviews.
"I couldn't be more excited to join Saber Nation as East Middle School's next principal. I am most looking forward to connecting with students, staff and families to build deep relationships," shared Mr. Ellis. "It is an honor to join the Shakopee community where we can, in partnership, inspire our students to grow and achieve their goals and aspirations. I have heard so many wonderful examples of the deep care for Shakopee students from a variety of stakeholders, and I look forward to being a part of the team."
The current principal, Jim Miklausich, will begin his new role as the next assistant superintendent of Shakopee Public Schools starting July 1, 2022 following the retirement of Dave Orlowsky (present assistant superintendent).
An additional communication, which will include a "get to know" Mr. Ellis video will be sent to the East Middle School community in the coming weeks, pending school board approval.