Welcome to Shakopee Public Schools
Return to Headlines
2023 Shakopee National Merit Finalists, Semifinalists and Commended Students Announced
Shakopee High School students once again join an elite group around the nation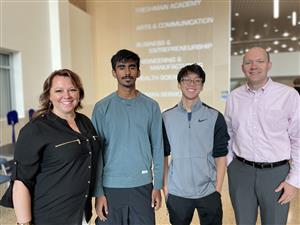 Updated March 10, 2023
Shakopee Public Schools is proud to share that Shakopee High School students Ajay Inampudi and Nathan Tran have both been named as National Merit Scholarships Finalists! They have progressed on to a group of only 15,000 students nationwide that will compete for 7,250 Merit scholarships!
---
September 22, 2022 (Shakopee, Minnesota) - Upholding Shakopee High School's continued recognition in the National Merit Program, eight students have joined an elite group around the nation designated in the 2023 National Merit Scholarship Program. Shakopee Seniors Nathan Tran and Ajay Inampudi have been named 2023 National Merit Semifinalists. Agrim Joshi, Paul Kurtzweil, Shruthi Narayanan, Cayden Schaefer, Carter Smith and Vaishnavi Sudhahar have been named 2023 National Merit Commended Students.
16,000 Semifinalists were selected for the 68th annual National Merit Scholarship Program. These students have an opportunity to compete for roughly 7,250 National Merit Scholarships worth nearly $28 million that will be offered next spring. To be considered for a Merit Scholarship® award, Semifinalists must fulfill several requirements to advance to the Finalist level of the competition. Shakopee High School's six Commended Students can become candidates for special scholarships sponsored by corporations and businesses.
When Semifinalist Nathan Tran was asked what inspires him, he quickly noted his mother. "I wrote my National Merit essay on her (mother), as she came from Vietnam and grew up during the back end of the Vietnam War," shared Nathan. "She moved to the United States in fourth grade and was on her own due to family circumstances. She ended up graduating from the University of California, Davis with a bachelor's degree. She really inspires and supports me," exclaimed Nathan. Nathan was also recognized this past summer for receiving a perfect score on his ACTs (english, math, reading, science).
When it comes to future plans and educational support, Semifinalist Ajay Inampudi shared, "I hope to study chemical engineering sometime in the future and really appreciate the support I've received from my family."
Both Shakopee Senior Semifinalists commented on the impact that educators have had on their educational journey. "Ms. Lichwa at Shakopee High School has been both my biology teacher and a friend with a positive, fun attitude. I learn the best when teachers are invested and interested in students," shared Nathan. "Mr. Douds at the High School has really made history engaging and enjoyable, and is one of my favorite teachers," noted Ajay. Shakopee teachers and staff at Eagle Creek Elementary, the former 6th Grade Center and West Middle School were also a part of Nathan and Ajay's educational journey.
According to the National Merit Scholarship Corporation, about 95 percent of the Semifinalists are expected to attain Finalist standing, and approximately half of the Finalists will win a National Merit Scholarship, earning the Merit Scholar® title.
"It goes without saying that Shakopee students are extremely talented, and it's recognition like this that showcases the drive and dedication of some of our very finest Sabers," shared Jeff Pawlicki, Shakopee High School Principal. "We are so very proud of these students, and commend the support given by those closest to them and the teachers that have inspired them along the way."
These students will be recognized at the September 26, 2022 School Board Meeting held on the Thrust Stage at Shakopee High School (6pm). For the full National Merit Program press release, click here.