Welcome to Shakopee Public Schools
Return to Headlines
Class of 2023 Graduation Information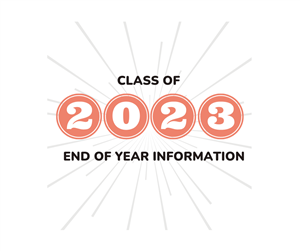 Shakopee High School Seniors and Families:
​​Cap/Gown:
Caps and gowns will be distributed on May 24th during lunch by the Thrust Stage.
Please be sure you have:
Paid all outstanding Food Services fees in Infinite Campus or provide a check to the Food Services cashier during lunch hours.

Any unused funds can go into a sibling's account, be donated or refunded. Additional information on such options will be sent direct from the Food Services department after June 12, 2023.

Returned all Learning Commons books.
Technology information for Seniors:
Seniors are required to turn-in their MacBook, charging cord and carrying case by the last day of school (June 8, 2023). Click here for more information.
Last Academic Day for Seniors:
Senior Breakfast - Wednesday, June 7, 8:30 am (Cafeteria/Learning Stairs Area):
Student Council is sponsoring a breakfast for our 2023 Seniors before graduation rehearsal starting at 8:30am.
​​Mandatory Graduation Rehearsal - Wednesday, June 7, 2023, 9:00am - 1:15pm:​​
Graduates must report to the High School Auditorium at 9:00am. Following a brief meeting, students will be transported via bus to Grace Church in Eden Prairie for rehearsal. Students ​​may not​ drive their own car to rehearsal.
When rehearsal is finished at noon (12pm), students will board the bus that is designated to their past elementary school (or one of interest if they didn't attend K-5 in Shakopee). The bus will make a stop at the elementary school so the students may walk the hallways one last time and be greeted by students and staff.
All buses will then return to Shakopee High School around 1:00pm and students will be dismissed for the remainder of the day.
​​Graduation Ceremony - Saturday, June 10, 2023, 6:00pm:
The ceremony will be held at Grace Church (9301 Eden Prairie Rd.) in Eden Prairie. Doors open at 5:15pm. This is a ticketed event. Every guest must have a ticket to be admitted into the ceremony. Student and Staff IDs do NOT grant access.
The ceremony will be live streamed. Information will be shared as soon as it is received with all families and posted to this page. As of June 7, 2023, the formal link has not been made available.​
Students will receive their diploma cover during the ceremony; their actual diploma will be available starting June 12 (see below for additional details).
​​Tickets for Graduation:
Each year, we work to ensure that the maximum number of guests can participate in graduation while adhering to the capacity guidelines of Grace Church. Based upon the current number of students graduating this school year, the below ticket details apply:
Each graduate will receive four (4) tickets for the ceremony. There is no fee for the tickets.

Tickets will be distributed at rehearsal.

Every guest must have a ticket to be admitted into the Auditorium for the ceremony (except for the graduates).

Extra tickets:

Networking with other members of the Class of 2023 is encouraged if you need extra tickets.

If you have extra tickets, you may also return them to the Main Office to be distributed during our Extra Graduation Ticket Distribution Event. The event will be held on Thursday, June 8 from 4 - 5:00pm in the Main Office, East Main Entrance.

This event is first-come, first-served. One extra ticket is provided per student, if available.

The student or family member can pick up the ticket.

Should extra tickets still be available, additional communication will be shared with families on how to obtain the remaining tickets.
Diplomas
Starting Monday, June 12, 2023, diplomas may be picked up at the Shakopee High School Main Office during summer business hours (Monday - Thursday, 8am - 2pm).
Senior Graduation Party
Registration for the Shakopee Graduation Senior Party, which is managed by SGGP (non-profit organization), has closed. Any additional questions can be directed here.
Yearbooks
Yearbooks are expected to be distributed the last week of May during 4th block. Stay tuned for more information.


Please call the Main Office at 952.496.5152 with any questions you may have. We look forward to celebrating the Class of 2023 and the 125th graduating class of Shakopee!