Full Day Fours Sample Schedule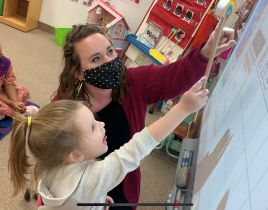 Full Day Fours is an everyday/all day preschool program for four-year olds. The program includes a balance of both STEAM (Science, Technology, Engineering , Art and Math) and Early Childhood Workshop Model (ECW). The ECW is a standards-based framework for learning that will prepare children for the Reader's and Writer's Workshop Model they will experience in elementary school.

The STEAM-based learning practice includes hands-on, individualized learning. STEAM is embedded into daily life, and advanced through teachers who create intentional learning environments and experiences.
Sample Schedule
Full Day Fours Class Schedule

9:00: Drop Off & Welcome to School
9:15: Morning Meeting, Calendar, Weather
9:35: Small Group Instruction Time
9:45: Centers & Snack Time (Snack Provided)
10:35: Clean Up & Regroup
11:00: Recess
11:30: Lunch (Hot lunch available for purchase through district food service or a home lunch can also be brought)
12:10: Calming Activities & Story
12:30: Rest & Quiet Activities (quiet reading, coloring, stretching, resting)
1:30: Journals & Enrichment
1:55: Phonics & Group Games
2:25: Gym
2:55: Clean Up & Transition to Dismissal
3:00: Dismissal