Ford Next Generation Learning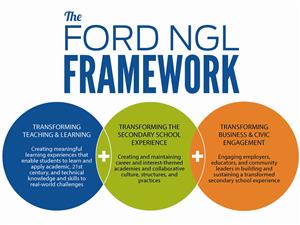 Shakopee Public Schools is a partner with Ford Next Generation Learning (NGL), a philanthropic non-profit arm of Ford Motor Company, which has helped many districts over the past 20 years to successfully transform their high schools. Ford NGL will help Academies of Shakopee to learn from others' experiences and give us access to many resources, including: seminars, workshops and staff development; a proven planning process; and professional development opportunities. We are joining a collaborative network of districts all seeking to make the delivery of high school education more relevant, impactful and successful. We are fortunate to have been selected to become one of their partners. Their support will be funded through our annual professional development budget.
What is Ford Next Generation Learning? Ford Next Generation Learning is a collaborative community-driven approach to achieve the following outcomes:

(1) increased community prosperity shared by all;

(2) a strengthened talent pipeline;

(3) young people prepared for college, careers, lifelong learning, and leadership;

(4) educational equity and justice for all; and

(5) the capacity to contribute and go further

What Does Ford NGL Value? Ford Next Generation Learning (NGL) comprises a network of mutually supportive communities that encourage one another to continuously improve. They seek opportunities to innovate and go further in their quest to increase student achievement, improve workforce and economic development outcomes, and ultimately achieve community prosperity.

What is Ford Next Generation Learning's Mission? Global competitiveness depends more than ever on the role of K-12 education in establishing the strong foundation essential for preparing a 21st century workforce. Ford NGL supports a growing number of communities that are committed to expanding and strengthening their networks of transformed secondary schools. These schools infuse the high expectations and academic rigor of college preparatory academic programs with the real world relevance and rigor of career and technical education (CTE). Ford NGL uses the power of workplace relevance and business relationships to excite young people about education and to prepare them for college, careers and life.

What is the Ford Next Generation Learning Framework? Ford NGL mobilizes educators, employers, and community leaders to prepare a new generation of young people who will graduate from high school ready for college, careers, and life - prepared to compete successfully in the 21st century economy. Three distinct but interconnected strands comprise the ford NGL Framework, which enables whole communities to design and carry out a long-term plan for revitalizing education.

Transforming Teaching and Learning: Creating meaningful learning experiences that enable students to learn and apply academic, 21st century, and technical knowledge and skills to real-world challenges and that equip them for success in college and careers

Transforming the Secondary School Experience: Creating and maintaining the career and interest-themed academies and the collaborative culture, structures, and practices necessary to transform teaching and learning and to capitalize on community engagement.

Transforming Business and Civic Engagement: Engaging employers, educators, and community leaders in building and sustaining transformed secondary schools that promote community growth an prosperity by preparing students for future work and citizenship.
The Academies of Shakopee: My Place. My Path. My Future.