High School: School Hours- 8:20am - 3:00pm Office Hours- 7:30 AM - 4:00 PM Attendance Phone Number- 952-496-5153 Bell Schedule- Click Here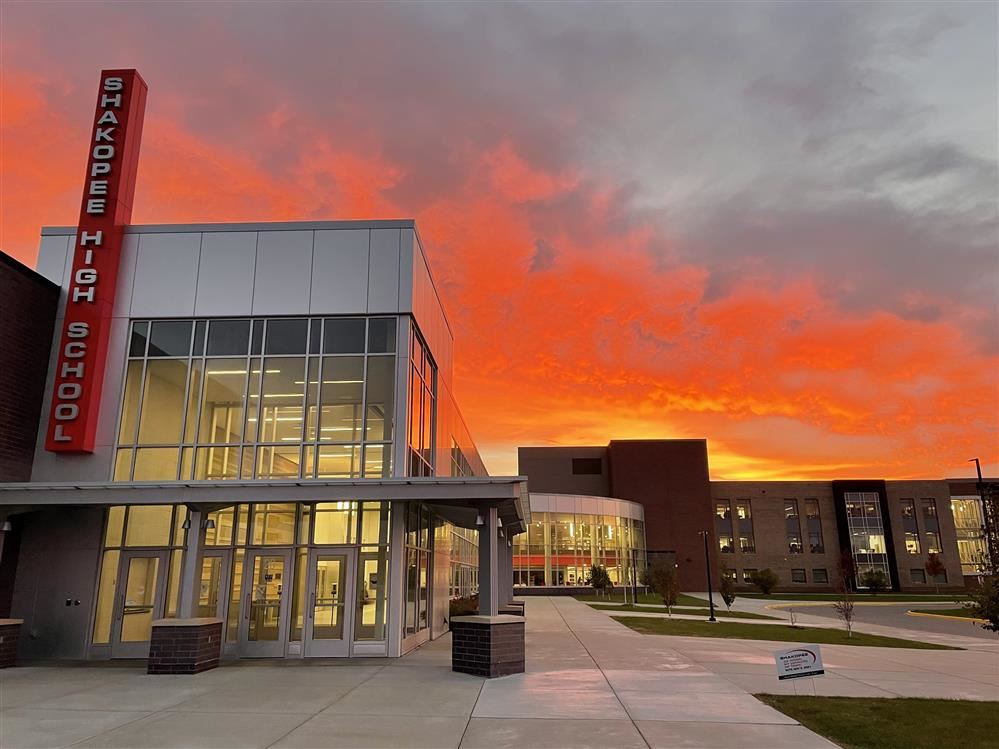 Meet Principal Jeff Pawlicki Video
Social Media & Digital Choices Speaker Series II
Announcements
RE: PreK-12 School Calendar Adjustment

On December 12, 2022, a proposal was brought forth to the Shakopee Public Schools board to recommend a one-time change to the school calendar for Wednesday, December 21, 2022.

In light of a very unique set of circumstances, the recommendation to change December 21, 2022 to a no school day for students (all students E-12) was approved by the School Board. This includes Pearson Early Learning Center, Saber Online, Tokata Learning Center and all K-12 schools. Winter break will remain unchanged with no school for all E-12 students and staff December 22, 2022 - January 2, 2023. Pearson Early Learning Center's no school day for students on December 16 will also remain unchanged. Activities, Athletics and Community Education classes will operate as normal on December 21.

To assist families with childcare needs, the YMCA will adjust the start of their winter break K-5 child care programming to begin on December 21, rather than the previously scheduled December 22 start date. Additional details will be sent via email to families tomorrow, Tuesday, December 13 by 1pm. Details will include a YMCA registration link and information, SWMetro services and other applicable items.

This change allows for all students and staff who may wish to attend Doug Keddie's Celebration of Life, that has been finalized by his family within the constraints of their situation and per his CaringBridge, on December 21 at 11am (Wooddale Church, 6630 Shady Oak Rd., Eden Prairie, MN). As a Shakopee Public Schools educator since 2004, Mr. Keddie worked in multiple school buildings and in a district-wide capacity.

We appreciate how staff continue to support students and each other during this difficult time as well as the support of YMCA, Palmer Bus Services and our greater community in this one-time school calendar adjustment.

Health Services Reminders

As we navigate through the annual cold/flu season, Shakopee Public Schools encourages parents and guardians to keep students home if they are exhibiting flu-related symptoms such as fever, dry cough, sore throat, headache, extreme tiredness and/or body aches. These symptoms usually begin suddenly and may be severe enough to stop daily activities. The Department of Health offers the following guidance to protect one's self and others:

Avoid being around others who are sick.

Cover your nose and mouth with a tissue when you cough or sneeze, or cough or sneeze into your sleeve.

Wash your hands often with soap and water or an alcohol-based hand sanitizer.

Protect infants by not exposing them to large crowds or sick family members when flu is in your community.

Do not share drinking cups and straws.

Frequently clean commonly touched surfaces (door knobs, refrigerator handles, phones, water faucets).

If a student will be absent from school, please call their school's attendance line. In addition to calling the attendance line, positive COVID-19 cases can also be reported using our Optional Self-Reporting tool by clicking here.

Additionally, the district's custodial staff has increased their efforts to frequently clean commonly touched surfaces in our schools.
NASA Student Project Spotlight