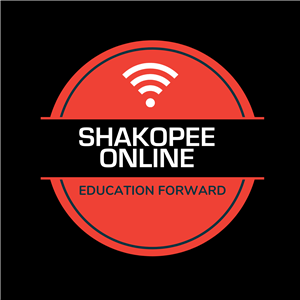 Is there a cost to Shakopee Online?
No. There are no registration costs or fees to participate in Shakopee Online.

My student received Special Education Services. Will she/he still receive these services?
Special Education, 504, English Learners, intervention and enrichment services will be provided to all students with identified needs.

How much time per day can I expect my student to be engaged in learning?
Daily average time for online schooling is expected to be 4 hours, with individual considerations for age and learning styles. A continuous feedback loop between the teacher/advisor, student, and family will help us monitor and adjust student learning based on feedback.

Which courses will be offered?
English, Social Studies, Science and Math courses will be offered to meet the required MN State Standards. A limited selection of elective classes at the middle school and high school will be offered based on enrollment.

What if I change my mind?
Registration for Shakopee Online is for the duration of the 2020-2021 school year. As the school year progresses, questions and concerns will be addressed on an individual basis.

How will instruction be delivered?
All courses will have regular live instruction (synchronous) delivered virtually. Classes will also use a combination of self-paced (asynchronous) learning opportunities prepared by our licensed Shakopee teachers.

How will my student be graded?
Grading will follow the traditional timelines and will be reported quarterly in Infinite Campus. Teachers will utilize standards-based grading, and will provide progress reports to families on an on-going basis for students in K-8. Students in grades 9-12 will follow the High School grading system for the 2020-2021 school year.

Will my High School student receive credits toward graduation?
Yes, all passing grades in High School courses will receive credits toward graduation.

Can my student take Accelerated Courses in Shakopee Online?

For high school students, all courses available including accelerated/advanced options are listed in the Shakopee Online course catalog. If you do not see the course offered, it will not be available.


For middle level students, we will offer advanced math courses (students may be in a course with older or high school students based on numbers). However, we will not offer Accelerated English or Accelerated Science. Shakopee Online will differentiate to meet the needs of high learners within the integrated units of study.