Return to Headlines
SHS Students Attend Women in STEM Day Event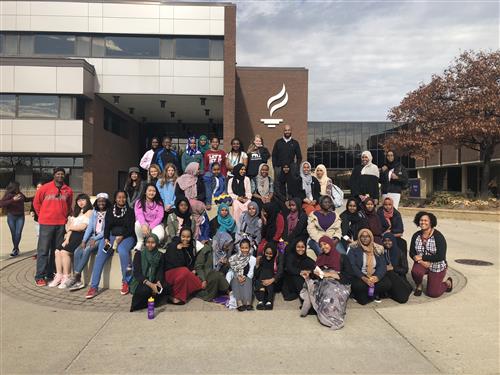 JANUARY 8, 2019 -- 43 young women got a glimpse into the possibilities of their futures at the Women in STEM Day at Minnesota State University – Mankato. The Shakopee High School students attended the event as part of the Equity Team's annual trip. This year was the third year the team has taken the trip and says it was the biggest year yet.
"In the past we have brought 25-30 young ladies down to MSU-Mankato," said Bethany Pearson, Shakopee Public Schools Equity Specialist. "Some years we have had to do a lot of recruiting to fill the spots. This year we had a wait list."
The students toured several science labs and worked on engineering projects. They also met with representatives from businesses as well as representatives from the Society of Women Engineers. They also heard from a keynote speaker; an engineer from General Mills.
"Many students aren't yet aware of all of the pathways in the STEM fields," said Pearson. "Those that want to be in the medical field, may only know of doctors, nurses, medical assistants, but there's much more."
The students also got some other experiences on the trip as well. "For many, the event is about visiting a college campus for the first time, seeing how they 'fit' on campus, and hearing from women who have succeeded through many of the same challenges they face," said Pearson. The students also got a campus tour and were able to eat lunch in the campus' dining hall.
The trip fits into one of the goals of the district's Equity Team. "We try to get as many students as possible onto at least one college campus prior to their 12th grade year," said Pearson. "We attempt to pair a college tour with an event and visit 2-year, 4-year, public and private options. This year we plan to visit either Dakota County Technical College or Hennepin Tech – Eden Prairie, along with Multicultural Education Day at Concordia St. Paul, and a campus tour of Augsburg."