Return to Headlines
Teacher Wins Coach of the Year Award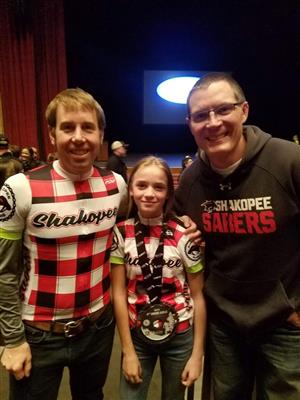 NOVEMBER 5, 2019 -- It's not about the bike for John Oman, it's about the relationships. At the beginning of November, that mantra earned Oman, Shakopee Public Schools Mountain Bike Team coach, the Minnesota High School Cycling League Coach of the Year award.
The award recognizes a head coach whose efforts and leadership have inspired their athletes, assistant coaches and parents to achieve their individual and team goals. The award is not about points or time, but about character and empathy and someone who drives their athletes to success on or off the bike.
"I was very honored to receive this award," said Oman. "I have to admit that I was not consciously trying to earn it. I believe in loving your sport so much that you care about it more than what you get out of it. Mountain biking has helped me through a couple low periods in my life so I feel passionate about giving back to it. I am very proud of the work we have put into this relatively unknown sport. This award helps to validate the quality of the program we have established here in Shakopee."
In 2015, Oman and another rider started the Shakopee Mountain Bike Team. His love for the mountain bike began back in 1997 when his college roommate introduced biking to him. The team has grown significantly since starting with 15 riders in 2015. There are now more than 60 riders (that range from 6th grade to seniors), 20 volunteer adult riders and many practices and weekend races.
"I whole-heartedly care more about the people under my watch than I do about the bike itself," added Oman. "I enjoy getting to know each rider and parent personally so that they feel connected while at our events."
Oman has worked in the Shakopee school district for 15 years. He is a technology and engineering teacher at East Middle School.