Return to Headlines
Shakopee Bowl Sells Students Winning Burger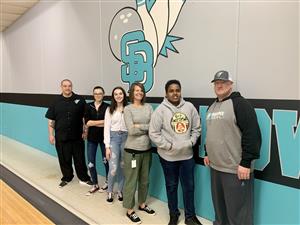 MARCH 24, 2020 - They never thought their culinary arts cooking project would get the kind of attention it's received, but hundreds of patty melts have been sold at Shakopee Bowl and it's a group of our high school students that created the winning recipe. And now, during this time of social distancing due to COVID-19, you can grab their burgers to-go.
The Culinary Arts 2 course teamed up with Shakopee Bowl to create the "Burger of the Month," and this month, the New York Patty Melt was warming the bellies of bowling and bar patrons.
"We were in New York when I was a little kid, I remember having this burger and ever since then, I have been trying to find a burger just like it," said Hudeyfa Abdullahi, culinary student. "I have never found it, so this was an idea that sparked this project. I never expected it to go this far."
Three winning burgers will be featured in March, April and then May. Shakopee Bowl sold more than 100 burgers in just the first week that the New York Patty Melt was introduced. Savanna Orf, Ryan Weness, Hudeyfa Abdullahi and Taylor Proechel made up the team for this month's burger.
"Everybody contributed their own little something for the burger," said Orf. "We learned about teamwork and we all just worked together really nicely to make it the best it possibly could be."
The partnership started by luck. Heather Baumbach, culinary arts teacher at Shakopee High School, reached out to Shakopee Bowl after they were looking to employ some students. Baumbach and owner Dave Johnson began talking and meeting about how they could partner and the "Burger of the Month" was born.
"He had said that the bowling alley was known for burgers and I said great, how about my students design a burger for you and he said I can do one better, how about we choose a burger and we make it for Burger of the Month," said Baumbach. "And I said great, and I went over to my schedule and erased what I was going to go and wrote in burgers."
Now that school is closed with distance learning scheduled to start April 6, the burgersare available for pick-up only. Shakopee Bowl had originally planned to donate $1 to the culinary arts program for every burger sold. Now, that $1 will go back to the employees at Shakopee Bowl. Follow Shakopee Bowl's Facebook page for more information on their hours of operation, and to view the menu.