Welcome to Shakopee Public Schools
Return to Headlines
Shakopee Public Schools Selects Next Assistant Superintendent - Jim Miklausich to Serve the District Starting July 1, 2022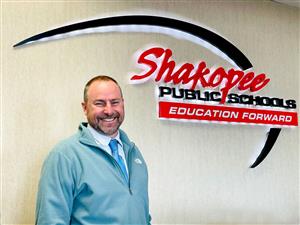 Issued May 17, 2022
Following the retirement of Assistant Superintendent Dave Orlowsky, Shakopee Public Schools has selected Jim Miklausich as the next district Assistant Superintendent, pending school board approval.
Mr. Miklausich has been with the district since 2012 and is presently the Principal at East Middle School. Prior to his time in Shakopee, Mr. Miklausich served as an elementary principal and teacher in North St. Paul-Maplewood-Oakdale Schools. Mr. Miklausich is also a graduate level instructor at the University of St. Thomas and has served on the State of Minnesota Professional Educator Licensing Board (St. Paul).
"We had a terrific pool of candidates for the position of Assistant Superintendent. Jim Miklausich has a tremendous skill set in educational leadership, a deep commitment to providing high quality student learning for each and every student, and is also very skilled in helping leaders continue to learn and grow. I have complete confidence Jim will excel in his new role and that will benefit our students and school community," said Superintendent Mike Redmond.
Mr. Miklausich has a Master of Arts in Elementary Education as well as a Bachelor of Arts degree from the University of St. Thomas. He has an Administrative License from the University of Minnesota, Twin Cities and is also in the process of completing his Superintendent License.
"I am humbled and excited to accept this position. Throughout my time in Shakopee, I've come to know that we are uniquely positioned with amazing facilities and a stable budget, which allows us to take the next steps in providing high quality learning," shared Mr. Miklausich. "I'm looking forward to my new role that is focused on ensuring all students that come through our school doors have their needs met and achieve their post-secondary goals."
Present Assistant Superintendent, Mr. Orlowsky, has been with Shakopee Public Schools since 2004 and has held various positions within the district prior to his current role, including Principal (elementary, 6th grade center), Data & Testing Administrator and Interim Superintendent. Mr. Orlowsky will continue to serve as Assistant Superintendent until his retirement on July 15, 2022.
"Dave is truly one of a kind. He's a terrific educator and an incredible human being who has poured his heart into serving our students, staff and community. He will be missed by many, including me," shared Superintendent Mike Redmond.
The East Middle School Principal position will be posted and is intended to be filled by the middle of June.