Welcome to Shakopee Public Schools
Return to Headlines
Shakopee Public Schools Awarded for Outstanding Financial Reporting
District Awarded ASBO International's Certificate of Excellence in Financial Reporting Award for FY2021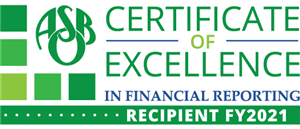 The Association of School Business Officials International (ASBO) recently awarded Shakopee Public Schools the Certificate of Excellence in Financial Reporting (COE) for the fiscal year ended 2021 (June 30, 2021 - FY2021), a designation that the district was also proud to receive for FY2020. ASBO International's COE is a significant achievement and reflects a commitment to transparency and high-quality financial reporting.
Applicants submit their Annual Comprehensive Financial Report (ACFR) for review by a team of financial professionals who provide feedback to improve future documents. If the report meets the requirements of the program, it may receive the COE. A district's participation in the COE program can facilitate bond rating and continuing bond disclosure processes.
"The COE's mission is to promote and recognize excellence in financial reporting," ASBO International Executive Director David Lewis said.. "The ACFR informs stakeholders about the financial and economic state of the district, making it an important communications tool for building trust and engaging with the school community."
Bill Menozzi, Shakopee Public Schools Finance Director, has been with the District since January 2020 and leads financial reporting efforts, including the upcoming and annual Truth in Taxation Hearing on December 12, 2022. Menozzi was also actively involved in the 2021 operating levy forums, as well as ongoing school board meetings and the citizens finance committee that includes members of the public.
"Bill and the district finance team work tirelessly with our leaders and staff to not only ensure the accuracy and timeliness of our financial reporting efforts, but that we are truly being great stewards of taxpayer dollars," stated Shakopee Public Schools Superintendent, Mike Redmond. "The finance team continues to remain committed to the financial integrity of our district and this award is a direct reflection of their dedication and hardwork."
Additional information on the District Finance's can be found online here. The COE is proudly sponsored by ASBO International Strategic Partner American Fidelity.
###
---
About ASBO International
Founded in 1910, the Association of School Business Officials International (ASBO) is a nonprofit organization that, through its members and affiliates, represents approximately 30,000 school business professionals worldwide. ASBO International is committed to providing programs, services, and a global network that promote the highest standards in school business. Its members support student achievement through effective resource management in various areas ranging from finance and operations to food services and transportation.
About American Fidelity
American Fidelity provides employer cost-savings solutions and supplemental insurance benefits to specific industries.