Welcome to Shakopee Public Schools
Return to Headlines
Shakopee West Swimming & Diving Complex Named the Kathy Carlson Aquatic Center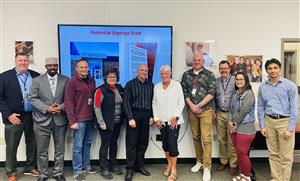 Shakopee Public Schools Board Approves Recommendation by Naming Committee
As approved during a Shakopee Public Schools Board Meeting on April 24, 2023, Shakopee West Middle School's swimming & diving complex will be named the Kathy Carlson Aquatic Center after the former Shakopee High School Swim & Dive Coach and community member.
Save the Date: September 21, 2023 Ribbon Cutting - Click here to learn more.
During a November 2022 School Board Meeting, a Committee was formally appointed to explore the naming of the West Middle School Swimming & Diving Complex per School District Policy 908. The Naming Committee was led by School Board Treasurer Joe Aldrich and included three community members as well as representatives from Shakopee Public Schools.
A community survey was conducted in late February to mid-March (2023) to gain feedback on this effort. Over 300 survey responses were submitted by various community members.
"There was an overwhelmingly positive response from the community to name the Aquatic Center after Kathy Carlson. It's a well-deserved honor for Kathy and her family," shared Superintendent Mike Redmond.
Kathy Carlson, who also served as a Shakopee Track & Field and Volleyball coach, was present at the April 24th Board Meeting and shared the following sentiments, "When Title IX took effect, it was an exciting time and I was able to take on coaching jobs during those first years. I didn't necessarily have the experience, but I had a passion and an interest, and was thrilled to get a chance to start coaching in Shakopee. The naming…it's quite an honor."
The formal ribbon cutting, which will be open to the public, is expected to take place this fall and will include the greater Swim & Dive community, among others.
---
Additional Information: Kathy Carlson
The information below has been obtained from the Shakopee High School Swim & Dive Team website, Shakopee Activities Office and Shakopee Valley News/Southwest News Media.
The Shakopee High School Swim & Dive team was founded in 1979 and Kathy Carlson set the groundwork for the team during her 32-year coaching career that led to multiple individual State Champions as well as a State runner-up finish in 1997.
In recognition of her outstanding contributions to the sport, Carlson was inducted into the Minnesota Swim Coaches Association Hall of Fame in 2003. Following in Carlson's footsteps, the team continues to focus on the involvement, improvement and importance of each athlete on the team.
Carlson was raised in Hector, Minnesota and graduated in 1972 from Luther College in Decorah, Iowa. Her first teaching job was in Blooming Prairie, Minnesota, where she was instrumental in starting a sports program for girls. In 1974, she started teaching in the Burnsville School District and the following year she accepted a volleyball coaching job at Shakopee High School.
In 1979, she was asked to start a girls' swimming team at Shakopee High School. Carlson was also the Shakopee High School head girls track coach (1984 -2011).
Carlson has also been Vice President and President of the High School Girls Swimming Coaches Association, and as a parent, served as the USS Minnesota Zone Team Manager in 1990, 1991 and 1992.
For additional Swim & Dive accomplishments, click here for a Southwest News Media article on her induction into the Shakopee High School Athletic Hall of Fame.