AVID Student Criteria & Application Process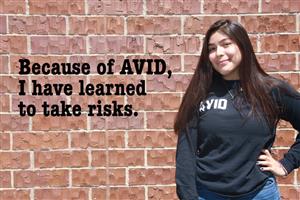 AVID Student Profile

In the academic middle
Average test scores
College potential with support
Good attendance
Demonstrates good citizenship in and out of the classroom
Has the desire and individual determination to work hard and succeed
May be first generation in family to attend college
Historically underserved in four-year colleges and universities
Special circumstances
Able to work well with others

Being in AVID is voluntary. AVID students sign the AVID Student Agreement indicating their commitment to the program and to their success. The initial commitment is one year. Students are highly encouraged to continue in AVID as they progress through junior high school and throughout high school. According to studies conducted by AVID, students experience the best results after being in the class for at least three years. AVID students usually choose to stay in AVID until they graduate from high school.

Applying for AVID

Families of students who are being offered an opportunity to be in the AVID class receive a letter inviting them to attend the AVID Family Information Night, which is usually held in November, so they can learn more about AVID. A student information session is also held during the school day for students who received the invitation letter. Students can also be nominated by a teacher or counselor. Attending the AVID Family Information Night or a teacher/counselor nomination does not guarantee selection. All students who would like to apply to be in AVID must complete and submit the AVID student application and be interviewed by AVID staff to be considered for possible selection. Applications are made available and accepted in early December. Interviews are held during the school day in January. Students who are selected to be in AVID are informed in time for class registrations for the following school year.
Application Process Contacts
The application process for the 2021-2022 school year is underway. Parents/guardians of students who have been invited to apply to be considered to be in AVID next school year, were sent a letter by e-mail or regular mail Dec. 3. The letter outlines the application process, which this year includes a Google Form student application that must be completed and submitted by the student applicant and a Flip Grid video in which students will record themselves answering a list of provided interview questions. The links to the Google Form application and Flip Grid are included in the invitation letter. These links are only accessible with a shakopeeschools.org account, so only students can access it. All applications and videos are due by Dec. 22. For students who did not receive an invitation but would like to apply or for those who have any questions, e-mail coxtra@shakopee.k12.mn.us.

If you were invited to apply for AVID but were not able to attend the virtual AVID Family Information Night that was held on Dec. 15, here is a video of some of the things that were discussed during the presenttation.