High School Summer Credit Recovery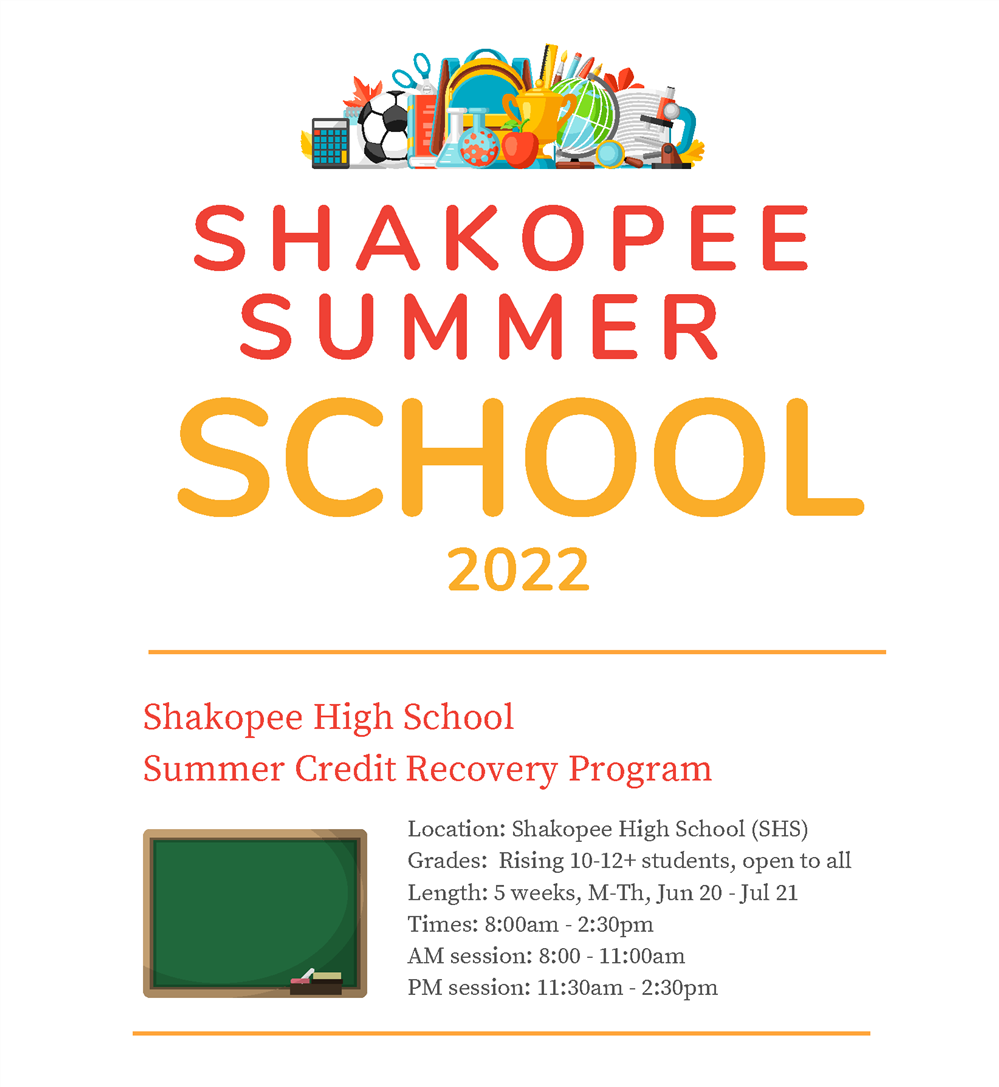 The Shakopee High School Summer Credit Recovery (CR) Program is one of the primary ways to recover required academic credits that a student has not successfully completed. A student should register for this program if:

The student has received an "F" or "NG" for any required English, Math, Science or Social Studies courses taken AND has not already been recovered in a credit recovery program.

Program Format

Courses will be facilitated by licensed teachers using APEX, a self-paced digital curriculum software.

Most APEX courses are prescriptive, meaning, students are able to test out of coursework already mastered by scoring above 80% on unit pre-tests.

Motivated students can complete 1-3 semester credits during the Summer Credit Recovery Program.

Students work on one course until it's complete before moving onto a second course.

Students have the option to sign up for one or both daily sessions.

Courses not completed before the end of the Summer

Credit Recovery

Program will not be awarded any credit.

Students are exited from the Summer Credit Recovery Program once they complete their scheduled courses. To learn more about APEX courses, click here.

Transportation/Food Service

Transportation will be provided for students who live outside of the 2-mile radius of Shakopee High School. Students who sign up and qualify for transportation will receive their bus information in the confirmation letter that will be provided

on June 8.

Please note, there is NO afternoon pick-up bus route. Students attending the afternoon session only must provide their own transportation to school.
Breakfast and Lunch is available to all students. Students who do not qualify for free and reduced lunch benefits will be required to pay for their meals using regular school lunch processes. Transportation will be provided to those who qualify.
Student Requirements
Follow APEX Course Expectations

Complete the Summer School Orientation Session
Important Dates
May 2: Summer Credit Recovery Program Registration Opens

May 23: Summer Credit Recovery Registration Closes

June 8: Summer Credit Recovery Confirmation Letters Provided in School, via email and in Infinite Campus

June 16: Summer Credit Recovery Online Virtual Student Orientation, Required

June 20: Summer Credit Recovery Begins, M-Th*

July 21: Summer Credit Recovery Ends

*The week of July 4, there will only be class on Wed, July 6 and Thurs, July 7