2021/22 Kindergarten Roundup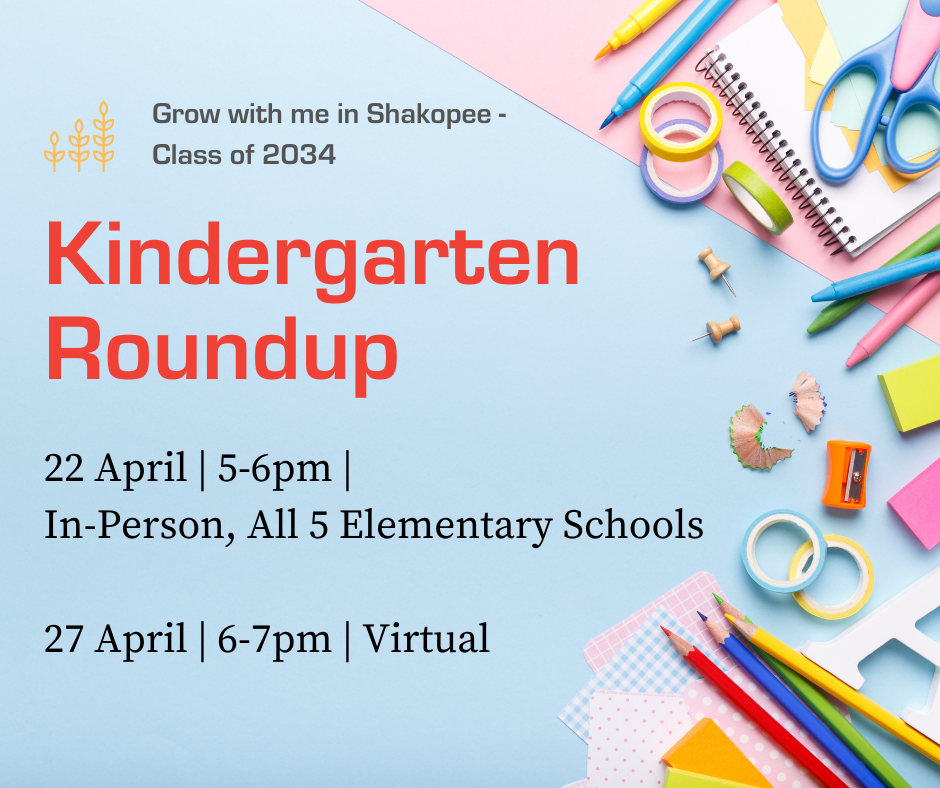 Two Event Options. All Welcome.
Registration for the 2021/22 Kindergarten program is underway for children that will be age 5 by September1, 2021.

Whether you're presently enrolled, undecided or just simply curious, we invite you to attend one of our Kindergarten Roundup information sessions!

Translation support will be available and COVID-19 safety measures in place during the in-person event.

Sign up for important event details by visiting:bit.ly/KinderRoundup2021
A Day in the Life... Shakopee Kindergarten
Event Details
In- Person Event, April 22, 5-6pm

Opportunity to safely tour an elementary building, meetbuilding administrators, staff and teachers while engagingdirect on topics that matter most. Transportation/busexperience and food service information will also beavailable.
Held at all 5 elementary schools, same time at each.
Families are encouraged to bring their future Kindergartnerand interested family members. Please note that childcare isnot available during this event. Capacity restrictions will bemanaged onsite.
Face mask required. Social distancing and health & safetymeasures will be upheld and apply throughout.
Hard copy registration forms will be accepted during theevent. Extras will be available onsite or can be turned inprior to the event.

Virtual Event, April 27, 6-7pm

Virtual experience that will utilize live video, chat/breakoutrooms and Q&A sessions to address topics covered duringthe in-person session.
Meeting details and link will be sent out prior to the event. There will be 5 sessions held at this time each with separate links for Shakopee's five (5) elementary schools. Parents/guardians should attend their child's assigned school's session.