Shakopee Public Schools offers a myriad of learning opportunities and activities that give Kindergarten students of all backgrounds and interests the chance to learn, share, explore and expand their knowledge and talents.

Early Childhood Screening is required for students to attend Kindergarten. Children between the ages of three and five are able to get a free evaluation at the district's Pearson Early Learning Center to help better identify development and learning needs including hearing, vision, communication, social and motor skills. Early Childhood Screenings typically take place during school hours on Wednesdays (8:30am-3:30pm) and Thursdays (10:30am-5:30pm). Appointments last approximately 45-60 mins. All in-person screenings take place at Pearson Early Learning Center, 917 Dakota St South, Shakopee. We are currenly offering virtual and in-person screening appointments. Once you select an appointment, you will be contacted for further information regarding your child, then mailed out a packet of forms. For virtual appointments, please ensure ALL the paperwork is returned to our building prior to your screening appointment. Please sign up online using the Online Scheduler or email Elaine Berens at eberens@shakopee.k12.mn.us (preferred) or call 952.496.5861 for an appointment. Interpreters provided, free of charge, for families with home languages other than English.

With an attentive and dynamic team of professionals, we will ensure your student continues to thrive in a comfortable and engaging environment.

---

The Shakopee Difference

Early writers curriculum
Media, music, art and physical education specialists
STEM programming & Project Lead the Way
Young Scholars program
Expanded science curriculum
Dedicated health services team
Free breakfast
Safe & secure environment
iPads & interactive technology
Daily transportation (for those who qualify)
Flexible seating
Positive Behavioral Interventions and Supports (PBIS)
Pearson Early Learning Center partnership (ramp up to readiness)
Community education integration

---

Partnership with River Valley YMCA - Before and After Care

Shakopee Public Schools is proud to partner with the River Valley YMCA (YMCA) in providing high quality care to students in grades K-5, five days a week. Before and after school care is offered onsite at each of the district's five elementary schools from 6:15am through the start of school and then from the end of school until 6:15pm. School release day care and full day care is also offered.

The YMCA's pricing can be found online and scholarships are available for families in need. Additional information can be found here or by contacting McKenzie Allard via phone 952.230.6661 or by email: McKenzie. Allard@YMCAMN.org
How to Register
Now Accepting Registrations for the 2021/22 School Year!

We are pleased to offer the following easy 2021/22 Kindergarten enrollment options for children that will beage 5 by September 1, 2021. Translation support is available throughout the process.

Please note that whether through paper or online registration, you will need proof of your child's age (i.e.birth certificate or passport), immunization records, name of any previous school(s) and special educationinformation (if applicable). Once a child is registered, our team will reach out and discuss your submission,important dates and other helpful details. If transportation is requested, the transportation office willcontact you with route information. Bus information for the upcoming school year will be sent to homesapproximately two weeks before school starts. We can't wait to see your child(ren) soon!

Online Registration: Click here to access the online registration portal.

The first step in the electronic process is simply filling out one screen of basic information. You will then immediately get an email with a link to complete the full online registration form, which takes about 5 minutes if all items are handy; the email will outline resources to have handy. A tips file on registration can be accessed here.

Paper Application: Click here

Early Childhood Screenings

Free early childhood screenings are held at Pearson Early Learning Center (917 Dakota St. S,Shakopee) and availablethroughout the year on weekdays between 8:30 amand 6:00 pm. Click here to learn more or call 952.496.5861 to schedule an appointment.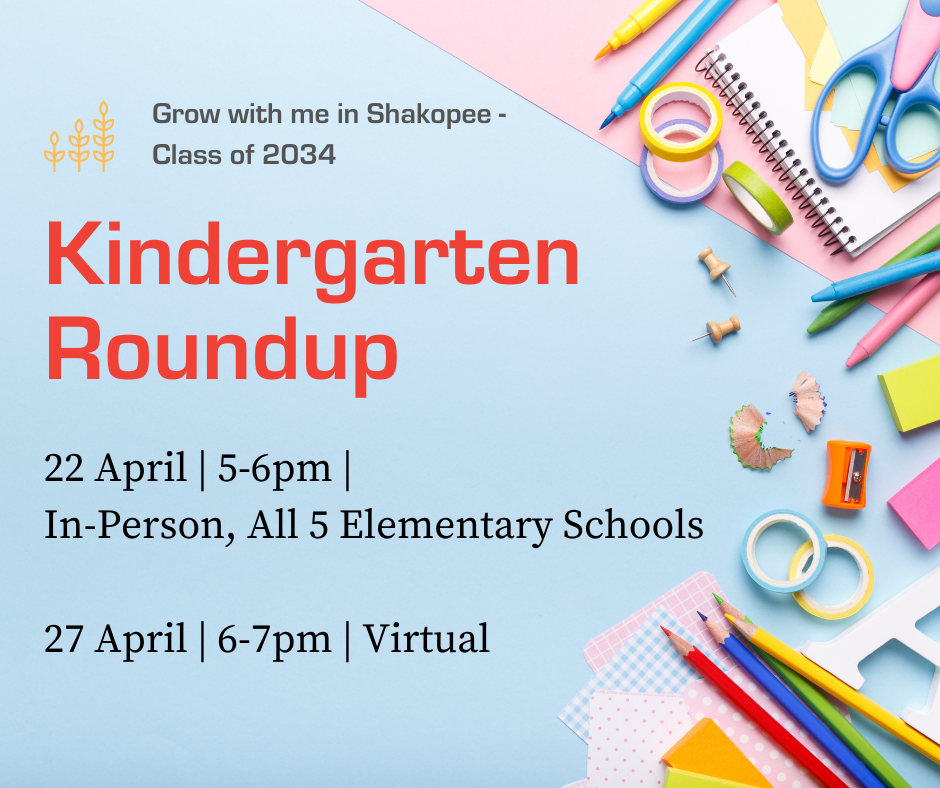 Sign up for the Kindergarten Roundup
2021/22 Kindergarten Roundup