Shakopee High School Handbook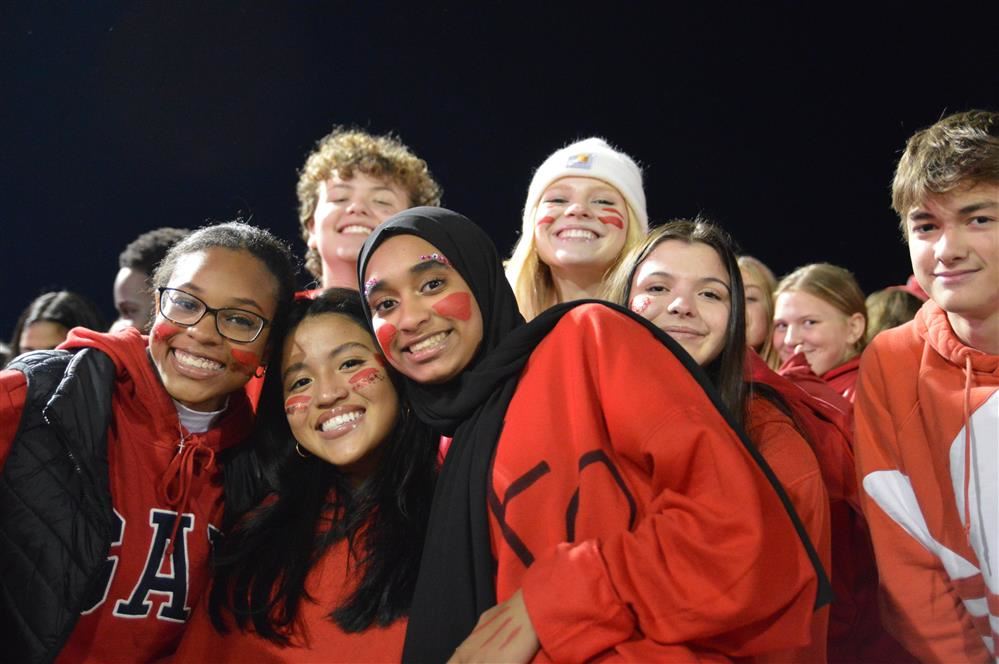 School Song
Fight, fight, fight, for Shak-o-high. We're going to fight, fight, fight for fame. Fight, fight, fight for Shak-o-high. We're going to fight to win this game. Glory and honor to our high school. Shak-o-high we'll stay right with you while you... Fight, fight, fight for Shak-o-high. We're going to fight, fight, fight, fight, fight!
Shakopee Public Schools is proud to be only one of two high schools in the state with a wall-to-wall Academy model - The Academies of Shakopee! The Academies of Shakopee includes six career Academies within Shakopee High School.

Students enter the Freshman/9th Grade Academy to discover their own unique interests. They then choose a home Academy for their sophomore through senior year. Each Academy has its own physical location inside the high school, a team of teachers, an Academy Principal, an Academy Champion and elective courses tied to each Academy pathway.

Teachers, school counselors and the high school administrative team support families throughout their journey so students can become life and career pathway ready!

This page includes universal academic and student life procedures as well as student handbook resource links. Please refer to the General District Information section for additional handbook elements.
Academics
Academic Integrity

Integrity is essential to excellence both in education and life. Assessments and other schoolwork are measures of a student's academic performance. Honesty is required to ensure an accurate measurement of a student's academic knowledge.

Student work must be evaluated on what the student knows and can do in order for the student and their family to have a clear and accurate accounting of the student's mastery of the material. When a student chooses to cheat and/or plagiarize on schoolwork, they compromise integrity and project an inaccurate picture of their performance. As such, academic integrity violations will include both academic and disciplinary responses.

Academic Dishonesty

All academic dishonesty incidents will be reported and documented in Infinite Campus. A contract must be completed by a student, teacher, parent/guardian and administrator prior to the student being able to make-up any assignment/assessment.
An academic dishonesty incident may result in disciplinary responses and/or loss of credit (see Academic Integrity policy).

Examples of Academic Dishonesty

Copying vs. Collaboration - At times, students will work together on assignments. Understanding the distinction between copying another's work and collaborating on an assignment is important. SHS teachers are responsible for informing their respective students as to the appropriate protocol regarding collaboration.

Disclaimer: If a teacher does not clearly state that an assignment is collaborative, all work that the student completes should be independently created and not obtained from any other source including, but not limited to, classmates.

Cheating - Cheating is when a student is unauthorized to use information, materials, devices, sources or practices in completing academic activities. Examples might include:

Copying any portion of another student's homework with or without their permission.
Viewing and/or copying answers from another student's test or quiz.
Being responsible for, or partaking in, the transference of confidential information. (i.e., test answers or test/quiz copies).
Utilizing written or electronically stored information that is pertinent to a test, quiz or class activity, without consent from a teacher.
Allowing one's work to be copied by another student.
Having someone else do an assignment that was meant to be done alone.

Plagiarism - This is when a student submits work for credit that includes the product, words, ideas or data of others and the source is not acknowledged by the use of complete, accurate and specific references. By placing one's name on work submitted for credit, the student certifies the originality of all work not otherwise identified by appropriate acknowledgements. On written assignments, if verbatim statements are included, the statements must be enclosed by quotation marks or set off from regular text as indented extracts. A student will avoid being charged with plagiarism if there is an acknowledgement of sources of information whenever one:

Quotes another person's actual words or replicates all or part of another's product.
Cuts and pastes another person's actual words.
Uses another person's ideas, opinions, work, data, or theories, even if they are completely paraphrased in one's own words.
Borrows facts, statistics, or other illustrative materials - unless the information is common knowledge.
Submits their own work that was created for a different class/assignment.

Academy Placement

Prior to registration, students will have an opportunity to express their preference for Academy placement through Freshman Seminar. All students will be placed in an Academy based on the following procedure:

Students will complete a survey and rank their level of preference for an Academy.
Students and parents/guardians will be notified of their placement.
Sophomores may request a change of Academy assignment prior to the registration process for 11th grade. A student may request a change of their Academy assignment during the registration process for 12th grade, but requests will only be granted in the case of unusual or extenuating circumstances.

Academic Recognition

Below are the different high school awards that recognize student academic achievements. GPAs are not rounded when determining awards. The weighted GPA is used to determine the awards.

Academic Lettering

Students in grades 9-12 who meet the grade point and course criteria listed below will be awarded an Academic Letter.

Grade Point: For grades 9-11, a student must have a weighted GPA of 3.80 or higher for the previous academic year (awarded in the fall).

For grade 12, the student must have a weighted GPA of 3.80 or higher for quarters 1 & 2 in the current academic year (awarded in the spring). Students with only semester-long courses for first semester must have a weighted GPA of 3.8 or higher for quarter 2.

Course Criteria

Must have taken 2 courses with a weighted GPA, through completion, in the previous school year. For seniors, students must have two courses with a weighted GPA in their schedule for the year.
First time academic-letter winners receive a chenille letter S and chenille academic bar. Students who have previously lettered in athletics or activities receive an academic chenille bar the first time they letter in academics. Once students have received a chenille academic bar, they will each receive a gold bar in the succeeding year(s).

Advanced Placement Scholar Awards

The Advanced Placement (AP) Program offers four levels of AP Scholar Awards to recognize outstanding student performance on AP Exams. The AP Scholar Awards are based on the number of AP exams taken and the scores earned on those exams. The College Board uses the following criteria:

AP Scholar qualifies by scoring 3 or higher on 3 or more AP exams.
AP Scholar with Honors averages 3.25 or higher on 4 or more exams.
AP Scholar with Distinction averages 3.5 or higher on 5 or more exams.
National AP Scholar scores 4 or more on 8 or more exams.

Graduation Awards

Graduating seniors may be recognized as honor graduates by attaining one of three standards at the end of quarter three in their senior year. All three groups of students receive honor cords.

Cumulative GPA between 3.3 and 3.59 are Commended Graduates.
Cumulative GPA between 3.6 and 3.79 are Honor Graduates.
Cumulative GPA above 3.8 are High Honors Graduates.

Honor Roll

Shakopee High School's "A" honor roll is for students with a quarter grade average of 3.70 weighted. The "B" honor roll is based on a quarter grade average of 2.70 weighted.

National Honor Society

National Honor Society (NHS) is a nationally recognized student recognition program. Students selected for NHS demonstrate achievement in scholarship, character, leadership, and service.

At Shakopee, juniors and seniors with a 3.3 GPA are eligible for NHS upon completion of an application form and selection into the organization. Eligible students are rated by the teachers on character, leadership and service. A faculty committee uses the teacher ratings to make the final decisions on membership. Students who meet the criteria are invited to join NHS.

National Merit Scholarship Program

High school juniors enter the National Merit Program by taking the Preliminary SAT/National Merit Scholarship Qualifying Test (PSAT/NMSQT®). 50,000 students with the highest PSAT/NMSQT® Selection Index scores (calculated by doubling the sum of the Reading, Writing and Language, and Math Test scores) qualify for recognition in the National Merit® Scholarship Program.

Students are notified starting in September if they qualify for recognition and the opportunity to continue in the National Merit Scholarship Competition.

National Commended Student: The top 50,000 high scores on the PSAT/NMSQT. These students do not continue in the competition to be a National Merit Scholar.
National Merit Semifinalists: One of the top 16,000 scores in the nation on the PSAT/NMSQT. Semifinalists are designated on a state representational basis.
National Merit Finalist: One of 15,000 students selected. Of these students, approximately half will qualify for one of three different types of merit scholarships.
National Merit Scholar: A student who wins one of the merit scholarships. All winners are chosen based on their abilities, skills, and accomplishments through an application process after being chosen as a National Merit Semi-finalist.

Presidential Award (awarded in the spring of 12th grade)

Students will be awarded the Presidential Award if the 12th grade student has demonstrated:

3.5 or greater cumulative GPA through the fall of 12th grade.
90th percentile or greater on at least one state or national test taken during high school.

Canvas

Canvas is the online learning management system (LMS) used by students in grades 6-12. Every teacher has their own Canvas page for their specific course content. It can be accessed either through an app or the internet.

Below are the main purposes for which students will utilize Canvas:

Find assignment materials, resources and directions.These will be organized into modules by unit so students can focus on the materials in the current unit of study.
Check the calendar with due dates for all courses.
Turn in/Upload assignments and quizzes.
View current grade for each course.

All students have their own Canvas accounts and are able to show their parents/guardians content through their own student account. Parents/guardians are encouraged to set up their own account as well. Access is available to every parent/guardian of a currently enrolled student.

Parent/guardian access is provided as a means to further promote educational excellence and to enhance communication with parents. Every parent /guardian is expected to act in a responsible, ethical and legal manner.

Users are required to adhere to the following guidelines:

Do not share their passwords with anyone or set browsers to auto-login.
Do not attempt to harm or destroy data on any district network.
Do not use Infinite Campus or Canvas for any illegal activity, including violation of Data Privacy laws.
Do not access data or any account owned by another parent or user.

Users who identify a security problem with Infinite Campus or Canvas must notify the office immediately. Please do not demonstrate this problem to anyone else.

Users who are identified as a security risk to Infinite Campus, Canvas or any other ISD 720 computers or networks, will be denied access.

Conferences

Conferences are structured to provide parents/guardians with an opportunity to meet and start a dialogue with teachers.

An extended discussion is not possible, as we have asked parents and teachers to observe a five-minute time limit. If parents/guardians would like to talk more in depth, it is always possible to schedule an appointment with the teacher for a different date. Parents are encouraged to bring students to conferences.

Conferences are held in each Academy wing. The conference schedule can be found on the SHS website as each date approaches.

Credits & Graduation

The current graduation credits needed for the class of 2023 and beyond is 56 credits.

Students completing all the requirements of the district for graduation will be awarded a diploma. In order to participate in the graduation ceremony, students must be within 2 credits of meeting all graduation standards on the last day of attendance for seniors (Board Policy 613). Students are responsible for keeping track of their credits and monitoring their status for graduation. A quarter-long course that is successfully completed will yield one credit.

| | | | | |
| --- | --- | --- | --- | --- |
| 2023-24 | Credits to Start | After First Quarter | After Second Quarter | After Third Quarter |
| 9th | 0 | 3 | 6 | 10 |
| 10th | 10 | 14 | 17 | 20 |
| 11th | 23 | 27 | 31 | 34 |
| 12th | 38 | 42 | 46 | 50 |

If a student does not follow this Shakopee High School credit plan, the student must be on track to graduate with their cohort. Please refer to the latest registration guide for additional details on classes, graduation requirements, credits, etc.

---

Credit by Assessment

In order to satisfy the academic standards for the Credit by Assessment, students must be enrolled in Shakopee Public Schools and be able to demonstrate by their performance on a course's final assessment(s) that they have mastered the content, skills, and standards of said course. In addition, students must follow the following procedures:

Meet with their assigned counselor.
Complete an "Application for Credit by Assessment."
Submit the application to their counselor by the appropriate deadline for proper placement.

Students interested in reviewing over the summer may access the course outcomes and text used by the identified course. Deadline for full-year or first semester courses: May 1 AND second semester courses (only) December 1

Credit for Prior Learning

In order to satisfy the academic standards for the Credit for Prior Learning, students must be enrolled in Shakopee Public Schools and be able to demonstrate that they have met all of the standards associated with the course in which they believe they are proficient. In addition, students must adhere to the following procedures:

Meet with their assigned counselor.
Complete an "Application for Credit for Prior Learning."
Submit the application to their counselor by the appropriate deadline for proper placement: August 15 for Quarter One AND December 1st for Quarter Three.


Extra Credit
Extra credit will not be factored into grade.

Repeating Credits

In order to graduate, students must pass all required classes. If a student repeats a previously failed class, the "F" will stay on their transcript along with the passing grade earned when the course was re-taken.

Family Partnership in Learning

Volunteers are important partners in the education of students and there are many times that we need parent volunteers. Please consider sharing your time with the students and staff.

The team realizes that volunteering takes a different form at the high school level because of the unique characteristics of adolescent students. Be assured, though, that participation is needed and benefits everyone - students, school, community and those who volunteer.

For more information about volunteer opportunities, contact the High School Main Office. Screening and safety guidelines apply for all volunteers.

Opportunities:

Community Resource Speaker:

Add your name to our file of community members willing to speak to classes about your occupation, hobby, ethnic heritage or travel experience. Share first-hand knowledge with students and enrich their learning.

Tutor:

Work with individual students, under the supervision of a teacher, to reinforce math, spelling, reading or writing skills.

Learning Commons Support:

Shelve books or assist students with research projects.

Career Center

: Help students access career, college and scholarship information.
Special Projects: Assist office staff with bulk mailings or special events.

Athletics Events Volunteer

: Help at three athletic events and receive an activity pass.

Band Boosters

: Provide support for the band program and assist with band fundraising efforts.
Dollars for Scholars: Assist with coordinating the annual community drive for scholarship funds.

Senior Class Party

: Help plan and coordinate the all-night graduation party which is planned and staffed entirely by parents and community members.

Lunchroom Helper

: Assist staff with lunchroom procedures.

Final Exams

Final exams may be added into the summative category OR separated into its own category. However, the % must not be over 10% of the total grade.

Grading

Grading policies are established to reflect Shakopee High School's philosophy that grades are a reflection of learning and our commitment to EACH student's learning.

The purpose of grading is to communicate to parents/guardians, students and the community the extent to which the student has met the objectives of a course. Letter grades are determined in each class as follows, unless agreed upon by the teacher and administration.

Grading Scale

A: 93-100%
A-: 90-92%
B+: 87-89%
B: 83-86%
B-: 80-82%
C+: 77-79%
C: 73-76%
C-: 70-72%
D+: 67-69%
D: 63-66%
D-: 60-62%
F: 0-59%
Pass/No Credit system: P = 60% or higher

A student's academic grade in any course will be based on:

A minimum of 80% Summative Assessment (Academic Performance) and the remaining percentage Formative Assessment (Academic Practice).*

Students must demonstrate proficiency of essential course standards to receive a passing grade.

Pass/fail grading may be assigned to a student by administration and/or counselors. These circumstances would include medical issues, hospitalizations and other situations deemed appropriate by the administration.

The guidelines for the pass/no credit option are:

The student must continue to meet all classroom expectations after choosing the P/NC option or the option will be revoked and the student will be graded on an A - F scale. This includes completion of daily work, projects, and quizzes/tests. Class attendance is mandatory.

The passing grade for all departments will be a "D-" (60%) of the accumulated points or grades for the term.

Weighted Grade

Grades will be weighted for nationally recognized programs such as College in the Schools and Advanced Placement Courses, Project Lead the Way and for comparable classes taken through the PSEO program.

Present courses include Advanced Placement classes and CIS classes. Grades will be weighted in the following way:

Any "A" Grade, add 0.6 (A= 4 + 0.6= 4.6)
Any "B" Grade, add 0.4
Any "C" Grade, add 0.2
No additions for D and F grades

---

*Note: Many colleges and universities request courses be taken for the grade.

*The Formative category (no more than 20% of the grade) deals with the practice work students do as they are going through the learning process. This is the time the teacher introduces new material, conducts lessons, monitors learning, and adjusts instruction as needed based upon the results of Formative Assessments that the teacher has given the students. A good analogy is to think of the Formative category as the practice/rehearsal leading up to the game/performance at the end of the week.


*The Summative category (no less than 80% of the grade) deals with the major assessments that the students perform that will demonstrate what they know and what they can do. This would include chapter and unit tests, major essays, presentations, projects, labs, etc. A good analogy is to think of the Summative category as the game/performance at the end of the week after all the drill work, practice, rehearsal, instruction and re-teaching have taken place.

Graduation Ceremony

Graduation for the Class of 2024 will be held on Saturday, June 8, 2024. More information will be shared with seniors as the year progresses.

Student participation in the graduation ceremony is a privilege, not a right. Students who have completed the requirements for graduation are allowed to participate in graduation exercises, unless participation is denied for appropriate reasons, which may include discipline. Graduation exercises are under the control and direction of the building principal.

Incomplete & Late Work

Incompletes can be given to students who did not complete coursework due to extenuating circumstances that are beyond their control.

If students are missing Essential Learnings and Skills in the Summative Assessment (Academic Performance) category at the end of a term, the student grade may be reported as incomplete until the student completes those items. When a student earns a grade of "I" incomplete, it will be reflected in the computation of their new GPA as a zero. This zero remains until the grade is changed.

In order to resolve an incomplete, the student must make arrangements and sign a contract with the teacher to complete the missing work.

If a student contracts with a teacher, the teacher stipulates what must be done and a deadline (a minimum of 2 weeks after the end of the term) for completion of the work. If the student contracts with the teacher and does not complete requirements by the contracted deadline, the student's grade for the semester will be determined upon the work submitted up to that point. A failing grade may result.

Late Work

Students will not have points deducted from formative or summative assessments when turning work in late.

Independent Study

Students may only take an independent study option for courses that are already designed and developed for credit in the Shakopee High School registration guide.

As a general rule, students will not be allowed to substitute an independent study class for a course that is offered and available to a student in their schedule.

Availability of independent study will depend on teacher availability and the student's ability to be successful in an independent environment.

Students must make the independent study request and complete the necessary steps for approval within five days of the start of a quarter.

Students will receive Pass/Fail grades on courses taken through independent study. The credit will count as an elective credit and the student's GPA will not be affected.

For more information about independent study options, students should see their counselor.

Report Cards

Report cards will be available online in Infinite Campus at the end of each quarter. Credits are earned at the end of each 9 week quarter/grading period.

Retakes/Redo

Retakes/redos apply to course-identified Essential Learnings and Skills assessed through a student's Summative Assessment (Academic Performance).

Any Final Exam/Assessment for a course will not be subject to the retake/redo policy. Procedures regarding retakes/redos will be consistent within a course and communicated by the teacher at the beginning of each term.

When a student completes a redo/retake, a student will have the opportunity to receive up to 100% of the value for the summative assessment. No points or percentages will be deducted from the value of the assessment. All late work, retakes/redos must be completed/submitted to one's teacher by 3:00pm on the Friday prior to the end of each quarter.

Saber Online

Students who attend Saber Online courses will be assigned a space within the high school to engage in online class time, complete coursework, etc. All students will be expected to be on time to all online classes, regardless of location.

If all of the student's classes are through Saber Online, students may have the option to complete coursework from home.

Students enrolled in classes with Saber Online may apply to drive from Shakopee High School to home to attend their online classes. Students must have a signed permission form and a written parent permission on file to leave and return to school during school hours. Applications may be picked up in any of the Academy Hub Offices or Main Office. The school district may revoke driving privileges at their discretion.

Senior Option

During their senior year, students who have at least 40 credits entering the first quarter and 46 credits entering the third quarter are eligible to participate in senior option. If a student meets the criteria they may, with parent/guardian permission, be excused from the first OR fourth block during the school day. Senior Option placement will be based on the master schedule availability.

Senior students must have:

Demonstrated to be on track for graduation with their grade-level cohort (within 12 credits of graduation for seniors).
No behavior referrals.
No attendance concerns with unexcused absences and fewer than 5 unexcused tardies.
Continued progress towards graduation, including passing all current classes. Failing a class will result in the loss of senior option for the remainder of the year.

*Senior option may begin upon completion of paperwork and Academy Principal or Counselor approval, and the privilege can be revoked for disciplinary and/or attendance issues.

Teacher Availability

Teachers are available to meet with students before and after school. Students should communicate with their teachers to set up time to ask for help and get any questions answered related to assignments, quizzes or getting assessments made up.

Textbooks

Students will be charged the replacement cost of any book lost or will be charged a fee for damage. According to Minnesota Statutes 120.101: "The school will charge an appropriate replacement fee for textbooks, workbooks or library books lost or destroyed by students."

Withdrawal

If a student moves out of the district and will be attending a different school, the school office should be informed as early as possible. Prior to withdrawing, students are required to return books, technology and materials to their teachers and counselors, pay accumulated fees, clean out their lockers and complete the withdrawal form provided by their counselor.

For more information, please contact the High School Registrar.
Student Life
Academic Resource Center (ARC)

The ARC is a space designed to support any and all students who need one-to-one or small group, independent learning, and small group testing. It is located in C210 in the Learning Commons and students may access the ARC Monday through Friday (hours will vary throughout the year). To contact the ARC staff, please email: HS_ARC@shakopee.k12.mn.us.

Activities & Athletics

There are a variety of athletic and non-athletic opportunities during the school year. It shall be the policy of Independent School District No. 720 to encourage its students to participate in co-curricular activities in order to enhance their total education. Keeping in mind, however, that their academic progress toward graduation is of the prime interest, any student of Shakopee Public Schools desiring to participate in a co-curricular activity must be making satisfactory progress toward graduation in order to be eligible for such participation.

At the beginning of each season:

To participate in sports, clubs or activities, students need to be on track to graduate through the earning of credits.
Students who are academically ineligible for the season will be notified by the activities office.

During each semester:

Shakopee teachers update grades bi-weekly.
The Activities Office/Coaches/Advisors are to review this information weekly, and students who have a failing grade(s) become temporarily ineligible to participate in contests until all grades are passing or they demonstrate commitment to improving their grades through an eligibility "ticket" available online or in the Activities Office.
Students are expected to continue to participate in practice/rehearsal while improving their grades.

Activities – General Information

Shakopee High School has an extensive activities program. This includes athletics, band and vocal groups, clubs, drama, yearbook, speech, and academic competition teams. All students are encouraged to become involved in activities. Activities make high school both more enjoyable and more meaningful. All of these activities are under the direction of the Activities and Athletics Directors.

All activities, whether associated with the Minnesota State High School League (MSHSL) or not, will follow the rules for eligibility set down by the MSHSL. All activities will follow the rules for academic eligibility as set down by the school. Students wishing to become involved in an activity should listen for announcements, attend organization meetings and/or talk to the coach/director.

Registration & Fees

Shakopee offers a variety of activities for high school students. In order to participate in athletics, three things must be completed:

Online registration must be submitted and the Activities Office.
Must have a current sports physical on file.
Pay a $150 registration fee for 9-12th grade sports.

In order to participate in Fine Arts or Instructional Competitive Activities, only the online registration must be submitted. There is also a registration fee for these activities to be paid through the online registration system.

Attendance at Events

Shakopee High School students can attend all athletic and activity home events with free admission with a student ID and are allowed to come by themselves.

Students will be issued a student ID at the beginning of the school year, but until the current school year IDs come in, students may still get into games by using an ID from the previous year. If no ID is present, the student ticket fee is $5.

Activity Participation and Attendance - To participate in and/or attend school activities, students must be in regular attendance during the school day.

Spectator Demonstrations

Sportsmanship and all that it entails is a primary goal of high school athletics. The safety of participants and spectators is also of the utmost importance. Demonstrations and displays at athletic contests that communicate anything other than positive support for the team may be disruptive, obtrusive, or misinterpreted and have the potential to lead to verbal or physical confrontation. The SSC and Shakopee Public Schools will enforce the expectation that all spectators will refrain from any and all such displays/ demonstrations at any contest.

Basic Fundamentals of Sportsmanship and Good Conduct:

Show respect for the officials, players and fans regardless of school affiliation.
Do not engage in discriminatory or harassing conduct, including conduct based on any characteristic protected by the Minnesota Human Rights Act.
Maintain self control at all times.
Remain in appropriate spectator areas.
Signs, banners, flags and placards must be positive and in support of your team only.

Acts of Misconduct:

Use of artificial noisemakers- examples: megaphones, compressed air horns, duck calls, whistles, cowbells, firecrackers, etc.
Display of signs, banners and/or placards that are negative in nature or call out the opponent in any way.
Throwing of objects- examples: silly string, beach balls, confetti makers, baby powder, flourcoins, pop bottles, folded papers, etc.
Use of obscene or abusive language that seeks to offend, intimidate or show prejudice toward a player, cheerleader, official or spectator, including the derogatory use of the names or numbers of opponents.
Being on the premises of a contest while under the influence, in possession of alcohol/ chemicals, or in violation of the school's tobacco free policy.
Unauthorized entry into any scheduled contest or playing surface.
Violation of the student discipline policy.

State Tournament Dismissal (General Guidelines)

Students will be dismissed for state tournaments in which Shakopee teams or individuals participate. Dismissal procedures, times and deadlines will depend on each tournament and game time.

Activity Fees & Field Trips

Classes such as Art, PLTW and Band may collect a fee if a student wishes to keep a project that is done in class. The individual teachers will give each student such information, if applicable.

When field trips are taken, each school collects ticket fees, entrance fees, bus fees and/or permission slips from each student. If a family needs financial assistance, support will be provided.

After-school sports and some clubs that meet after school may require a fee. This fee may be waived in the case of financial need. If a student is in need of financial assistance, please contact the Assistant Principal, Athletic Director at the High School or the Principal.

Attendance

Shakopee High School believes that regular school attendance is vital to achievement and future life success and educational progress is undoubtedly tied to attendance. Therefore, when students are absent, it stops the educational process for that day, and the information and interaction missed can never be made up.

Shakopee High School's goal is for students to be in school all day, every day to participate in their maximum educational opportunities. Students and parents/guardians are encouraged to work with Shakopee High School in partnership to reach this goal.

Minnesota State Law and the Department of Education regulations require daily school attendance. All students should report an absence as soon as possible by submitting a request in Infinite Campus or contacting the school's attendance line. If the school is unable to reach the family or do not hear back on an absence, the absence/tardy will automatically be marked as unexcused. The classroom teacher reports attendance information and all absences and tardiness are recorded in the school office. Please refer to Policy 503 Student Attendance for additional information.

---

Student Responsibilities

Attend and be on time to every class, every day.
Be present in class during the first and last 15 minutes of class.
When absent, the student should communicate with the teacher to obtain and complete missed school work.
Monitor attendance in Infinite Campus.

Leaving the Building During the School Day

No student is to leave the building or its premises during the school day without having a dismissal pass issued by the attendance office, obtaining permission from school administration, signing out with the school health office, being in an authorized work or academic program or CAPS student, and/or senior option. Students leaving the building without permission will be considered unexcused from the classes missed and disciplinary action will follow.

Shakopee High School is a closed-campus; therefore, students attending SHS are not permitted to leave the school building during school hours, including lunch, unless they have permission. If a student leaves the building without a pass and attempts to re-enter the building, the student and their belongings will be searched.

If the student has a pre-arranged absence, a parent/guardian will notify the attendance line and leave a message in advance of the scheduled absence. Students will be expected to communicate (via email, Canvas, or in-person) with their teachers to make appropriate arrangements to make up the school work. The student will receive a dismissal pass prior to leaving the school.

If the student is returning back to the building later that same day, they must report to the main office with the dismissal pass. Failure to follow this procedure will result in an unexcused absence. Excused reasons for leaving school will follow the same reasons as excused absences.

If a student becomes ill during the school day and needs to leave school, they must report to the health services office to sign out.

PRE-ARRANGED FAMILY TRIPS

If a family trip is planned during school time, the parents/guardians should call the attendance line well in advance to inform them of the date(s) the student(s) will be absent. The parent/guardian may request homework be collected in advance of the departure date so their student(s) can work on it during their absence to help stay caught up. Family trips are excused absences as defined above as long as a call is made to the school. If the parent/guardian fails to contact the office, the absence will be considered unexcused.

Please refer to district policy for truancy, unverified absences, tardiness and unexcused reasons.

---

Arriving Late

The parent/guardian must call the attendance line to leave a message prior to the student's arrival at school. The message needs to include: (1) name of parent/guardian, (2) name and grade of student, (3) date of absence, and (4) the reason for arriving late. A student arriving late should report to the Main Office for a pass. Excused reasons for arriving late will follow the same reasons as excused absences.

Daily Automated Attendance Calls

Parents/guardians will receive a computer-automated phone call when their student has an unexcused absence of one or more block classes during the school day. If a student and/or parent/guardian feels that the attendance was marked inaccurately, they should contact the teacher and/or the Dean of Students.

---

Teacher Responsibilities

Take daily attendance and maintain attendance records for each class.
Provide school work that can be completed outside the classroom to any student who is marked absent.
Communicate home if a student has accrued three or more absences AND/OR tardies in their class.

Administration Responsibility

Distribute the district attendance policy to all students, parents/guardians, and school staff.
Notify parents/guardians when the student has accumulated a number of excused and unexcused absences.

Plan/implement interventions for students with excessive attendance issues.

---

Consequences for Absences

Tardies/Detention

Students are expected to be in the classroom by the time the bell rings to signal the start of class. If a student enters the classroom after the bell has rung, they will be marked tardy.

When a student reaches five cumulative tardies, they will automatically receive one hour of detention (and will continue to receive consequences for every five thereafter).

A student will receive one hour of detention for each unexcused absence from class. If a student accumulates excessive unexcused absences/detentions, they may lose the privilege of attending school activities/events, hall pass privileges, and/or their parking permit.

Attendance Letters

A parent/guardian will receive attendance letters when their child has excessive absences (excused and/or unexcused). If a student and/or parent/guardian has questions or concerns regarding the letter, they should contact the student's academy dean or the student support specialist found on the bottom of the letter.

Behavior

At Shakopee High School, we demonstrate the values and beliefs of Saber PRIDE: Perseverance, Respect, Integrity, Diversity, and Enthusiasm:

Perseverance - We do not give up.

Respect - We care about ourselves and others.

Integrity - We are honest and truthful in our actions.

Diversity - We accept others' differences and uniqueness.

Enthusiasm - We show energy and excitement.

Saber PRIDE/Positive Behavior Interventions and Supports

Positive Behavior Interventions and Supports (PBIS) is an approach to supporting students to be successful in school, as well as laying the foundation for building a positive school culture. As a result, Shakopee High School has implemented a school-wide positive behavior interventions and support system that focuses on teaching and promoting expected positive behaviors amongst students as well as recognizing students who are engaging in behaviors that improve school culture.

---

Shakopee High School Students will:

Participate fully in the learning experience, including curricular, co-curricular and extra-curricular activities, from the moment they are on the bus until they return home and at all district activities and events.
Participate actively in the learning experience by being fully engaged, being fully prepared, raising engaging questions and communicating effectively and positively with all students and staff.
Participate actively in the learning experience by sharing information about themselves including strengths, weakness, and culture, to create common bonds in curricular, co-curricular and extra-curricular activities.
Participate actively in the learning experience by respecting differences while asserting perhaps a divergent viewpoint, doing so without harm to the other students, staff, team, other leaders, and property.
Demonstrate empathy (knowing others) to build fruitful relationships that create a cohesive learning opportunity for all and, through self-control, behave in an ethical manner from the moment they are on the bus until they are returned home.

If there is a concern with a teacher, reach out to a trusted adult in the building to help support.

If a student demonstrates a lack of responsibility, respect, empathy or self control and disrupts the learning for other students, adults will:

Redirect, work with, and ensure that the student fully understands the expectations.
Create an accountability system with the student and parent/guardian with clear consequences or processes for resolution for additional violations.
Work in partnership with family, students, staff and other significant adults to determine additional strategies and/or consequences.
Determine if there are extenuating physical, emotional or mental challenges.
Submit referral as required.
Move to remove from class, suspension, or expulsion, as needed.

Shakopee High School Staff will create a culture of learning that includes:

Opportunities for students to explore and construct their learning through choice, practice, trial, error and reworking.
Knowing the students culturally and individually, by being fully cognizant of their strengths and interests.
Co-creating classroom rituals that maximize learning bell-to-bell.
Creating a climate that respects difference and allows for multiple perspectives without hurting others.
Fostering opportunities for students to determine responsibility in meeting academic, social, and emotional expectations and in monitoring their self control.

If students demonstrate inappropriate behavior at school, an adult will seek to understand what happened, support the child in reflecting on their behavior and provide opportunities for restoring relationships, as applicable.

In addition, specific consequences may be applied; parents/guardians may be contacted, depending on the nature of the behavior, frequency of the behavior and severity of the specific incident.

Please refer to the 500 Student Policy series for additional discipline and bullying prohibition elements.

Before/After School

Before School

All students will not be allowed in the building (other than for sanctioned events) more than 20 minutes prior to the start of the school day, which is 8:00 am at Shakopee High School.

After School

All students must exit Shakopee High School campus by 3:30pm unless they are participating in a school-sponsored activity OR have an appointment with a staff member in a designated area. Once a student has completed the supervised activity, they must exit the school building. Students who fail to comply with these guidelines may have a discipline referral and/or a trespassing notice filed with the Shakopee Police Department.

Dances

School dances held at Shakopee High School and sponsored by a class or organization of the high school shall be for 9th-12th grade students of Shakopee High School and guests (when permitted). Middle school students will not be admitted to high school dances. The following rules will apply to all dances:

Students must be in good standing in not having more than 5 detentions owed before dance tickets are purchased.
A Shakopee High School student may invite a guest (from another high school) to the dance. The guest must submit a Dance Registration Form to the Student Support Hub by 3:00pm on the Wednesday before the dance. These forms can be found in the Student Support Hub. All guests must be in high school and under the age of 21.
Students must present a school ID, and guests must present a photo ID to be admitted to dances.
School dance hours are from 7:30 pm to 10:00 pm.
Once a student leaves a dance, they will not be readmitted.
The supervisor(s) of the dance reserves the right to refuse admittance to any Shakopee High School student.
Students asked to leave the dance due to their actions will be referred to an administrator and may lose the privilege to attend future dances for up to one calendar year.
Students under the influence of mood altering chemicals or alcohol will be detained, and parents/guardians and police will be called. Students will face regular school disciplinary action and will lose privileges to attend dances for one calendar year.
Groups sponsoring dances must complete a dance request form.

Fundraisers

Students may only sell items for school-approved fundraisers. Students may not sell items during class. The school cannot be responsible for any money students may have collected. Students should not keep money in a locker.

Hall Passes & Signing In/Out

Sign Out/Sign In Sheet

Students will be expected to use the sign out and sign in sheet to:

Use the bathroom
Get a drink
Work in wing/hallway

When leaving the classroom, students are expected to be considerate of others who are studying and in class by passing quietly.

Student Passes

Students will be issued passes to meet with their Academy Principal, Dean of Students/Student Support Specialist, school counselor, equity specialist or special services staff member (social workers, school psychologist, evaluation teacher, county therapists, etc,.), as well as to go to the main office, counselor, student support hub, student health office, Learning Commons, and/or Athletic/Activities office.

High School Visitors

Students who want to bring visitors to the school must make a request to the administration at least one day in advance.

All visitors are required to report to the Main Office and provide picture identification. Student visitors must report to the Main Office to pick up a guest pass and name tag.

Visits may or may not be approved depending on the visitor, the visitee, the reasons for the visit, and consideration of all other circumstances. In most cases, students who have recently dropped out or transferred will not be allowed to visit. Visitors who attend another local school district currently in session will generally not be provided a guest pass. Student visitors will not be permitted during the last two weeks of a semester.

Lockers

Each ninth grade student will be assigned a locker.

Sophomores, Juniors and Seniors may request a locker at the Student Support Hub.

Combinations should be carefully guarded and not shared with other students to minimize the possibility of property loss.

Student-assigned lockers and physical education and athletic lockers are to be locked at all times. It is strongly recommended students not leave large amounts of money or valuables in lockers. If a student is found to be responsible for damage to a locker, the cost of repairing damage to lockers may be charged to the student. Locker problems should be reported to the Student Support Hub.

The district cannot reimburse for stolen personal property, AND items left in lockers at the end of the school year will be donated to charity.

---

Under Minnesota law, school lockers are school district property. At no time does the school district relinquish its exclusive control of lockers provided for students' convenience. School officials may inspect the interior of lockers for any reason at any time, without notice, without student consent, and without a search warrant.

Students' personal possessions within a school locker may be searched only when school officials have a reasonable suspicion that the search will uncover evidence of a violation of law or school rules. As soon as practicable after the search of a student's personal possessions, the school officials will provide notice of the search to students whose lockers were searched, unless disclosure would impede an ongoing investigation by police or school officials.

Lost & Found

In the event that a student has misplaced a personal item, there are several places to check. If the item is an electronic device such as a cell phone, iPod or calculator, students should check in the Main Office or with the School Resource Officer.

If the item is of lesser value, such as an article of clothing or book, students should check the lost and found area across from the first floor Student Support Hub.

Neighboring Property

Shakopee High School is part of a neighborhood. Such neighbors have every right to expect that their property (house, yard, cars, business, etc.) will be treated with respect. Therefore, SHS students are not to trespass on neighborhood businesses or private property.

Personal Items & Electronic Devices

Personal Items

Shakopee High School is committed to providing an environment free from distraction and focused on learning. Often, items such as spinners, slime or other trendy toys become significant distractions, get stolen or become the primary focus of students over the intended attention to learning. Such items are better suited for home use. When improperly used in school, these items may be confiscated to be picked up later by a parent/guardian. This is not to be confused with fidgets identified as accommodations for students as approved by case managers.

Additionally, the personal possessions of students and/or a student's person may be searched when school officials have reasonable suspicion that the search will uncover a violation of law or school rules. The search will be reasonable in its scope and intrusiveness.

Electronics

Information is readily available and accessible through many different forms of technology. During class time, teachers may ask the students to take out an electronic device to enhance and/or aid in the lesson. The use of any electronic devices not provided by the school district in the classroom should be for educational purposes only, as determined by the teacher.

Electronic devices cannot be used in the bathrooms or locker rooms at any time.

Students may use electronic devices during passing times and while at lunch.

Electronic devices include, but are not limited to: Smartwatches, iPads, iPods, laptops, cell phones, Kindles, e-books, tablets.

If an electronic device becomes a distraction in any school environment, it may be confiscated and school policies will be enforced. Failure to comply will result in further action. SHS is not responsible for lost or stolen electronic devices.
Technology
Cases & Transport

Shakopee Public Schools provides a protective case for iPads.

iPads should ALWAYS be in the protective case. No part of the case should be removed.

The device should be charged using the charger provided and brought to school ready to use each day.

Do NOT place your device in a book bag that contains food, liquids, heavy or sharp objects.

Digital Learning Device Screen & Cleaning

The screens are sensitive to pressure and therefore can be damaged; they are scratch resistant, not scratch proof.

The screens are made of glass and can either break or shatter.

Do NOT use liquids to clean the device. This includes, but is not limited to: window cleaners, household cleaners, aerosol sprays, solvents, alcohol, ammonia, or abrasives.

PLEASE USE: A soft, dry cloth or anti-static cloth.

Digital Learning Device General Precautions

The digital learning device is Shakopee Public Schools' property.

The digital learning device must remain free of any writing, drawing, stickers, or labels that are not issued and placed onto the device by Shakopee Public Schools staff.

Cords and cables must be inserted carefully into the device to prevent damage.

Never expose a device to extreme cold or heat, direct sunlight, or prolonged periods of time in places that are not at a normal room temperature.

Digital learning devices must be kept in a secure location at all times. It is the student's responsibility to know where their device is. During classes or lunch periods when the device is not needed, place the device in your locker or in a locked classroom. Do NOT place your device on the BOTTOM of your locker, but rather on top of all other materials.

The use of or access to the digital learning device in any unauthorized area (such as locker rooms, restrooms) is prohibited.

If the digital learning device is either lost or stolen, students should report that information to the front office or technology staff as soon as possible. The digital learning devices contain software that can be activated to track and possibly recover missing devices. The district will coordinate with law enforcement to track missing or lost devices in partnership with the student/family.

Earphones and Audio

Shakopee Public Schools does not provide earphones. If a student uses his/her own earphones then:

Earphones shall not be used within or on school property unless a teacher specifically requests or allows students to do so.

If allowed to use earphones, the appropriate level is when only the person wearing the earphones can hear the sound. Sound must be muted at all times unless permission is obtained from the teacher for instructional purposes.

Expectations

Our goal in Shakopee Public Schools is to help students demonstrate digital responsibility, situational awareness and the ability to use technology to create, research, communicate and produce content in the academic and professional setting. Our digital initiative is intended to foster engaging curriculum, dynamic learning environments and students who are better prepared for the world beyond our school doors. We believe that it is not about the device, but rather how to use the device in education.

Shakopee Public Schools Expectations for Digital Learning:

Use technology to access and produce information

Use technology to collaborate and communicate with others

Use technology to craft, refine and publish content to a wider audience

Use technology to create and innovate

Expectations for Digital Citizenship:

Being a responsible citizen in our schools, communities and the digital world requires responsibilities adapted for a changing world. We embrace the following conditions of being a digital citizen:

Respect yourself. I will select names that are appropriate. I will carefully consider the information and images I post online. I will not post personal information about my life, experiences, experimentation, or relationships. I will not be obscene.

Protect yourself. I will ensure that the information I post online will not put me at risk. I will not publish details about myself, my contact information, or a schedule of my activities. I will report any attacks or inappropriate behavior directed at me. I will protect passwords, accounts, and resources.

Respect others. I will show respect to others. I will not use technology to bully, harass, tease, or stalk other people. I will show respect for others through my choice of websites. I will not visit sites or display images that are inappropriate or disrespectful. I will not abuse my rights of access.

Protect others. I will protect others by reporting abuse and not forwarding inappropriate or hurtful materials or communications and not visiting sites that are inappropriate or disrespectful.

Respect & protect intellectual property. I will suitably use and cite any and all content (websites, books, media, etc.) according to copyright or creative commons licensing. I will request to use the software and media that others produce.

Maintenance

Do NOT attempt to try to repair any digital learning device yourself.

If the device is not working, take it to the Media Center/Learning Commons or designated technology repair area as soon as possible and have technology department staff examine it. If the device needs to be worked on for an extended period of time, you will be issued a temporary or replacement device. For cases of hardware failure or other damage, a replacement device will be provided.

Each digital learning device has identifying labels which must not be removed or altered in any fashion.

As of the 2022-2023 school year, we are no longer offering device insurance. The district will maintain devices through a combination of capital projects levy funding and warranty agreements with the manufacturer.

District Expense

Accidental Damage: Includes accidental damage caused by liquid spills, drops, broken headphone jacks, electrical surge or other unintentional events.

Accidental Loss: A misplaced device should be reported to tech within one school day of the loss.

Theft: Pays for loss or damage due to theft. The claim requires a police report to be filed within one week.

Fire: Pay for loss or damage of the device due to fire. The claim must be accompanied by an official fire report from the investigating authority.

Natural Disasters: Loss or damage caused by natural disasters.

Fee or Charge Will Be Assessed

Dishonest, Fraudulent, Intentional, Negligent or Criminal Acts: The District will not cover damage or loss that occurs due to a dishonest, fraudulent, intentional, negligent or criminal act. The student/parent will be responsible for the full amount of the repair/replacement. Such acts include altering device software in any way that damages the device, compromising or removing a device case, and patterns of loss or damage.

Accessories: Including but not limited to the case, charger, and software.

The district is not liable for any loss, damage (including incidental, consequential or punitive damages) or expenses caused directly or indirectly by the equipment. Cosmetic damage that does not affect the functionality of the device will generally not be repaired; this includes but is not limited to scratches, dents, or any normal wear and tear.

Responsibility

Access to Shakopee Public Schools' owned technology is a privilege and not a right. At any point access to devices, Internet and other technology resources can be revoked.

Student Digital Responsibility includes, but is not limited to:

Accessing/Posting Inappropriate Material

Accessing, submitting, posting, publishing, forwarding, downloading, scanning or displaying materials (including photos of students and staff) that are defamatory, abusive, obscene, vulgar, sexually explicit, sexually suggestive, threatening, discriminatory, harassing and/or illegal is a violation of this agreement.

Personal Safety

Do not send any message that includes your personal information such as: home address, personal phone numbers and/or last name for yourself or any other person. Do not send information regarding your schedule (where you are/will be, times, dates, etc.).

Privacy

Students and families need to know that files stored on school-owned computers are not private. Network and Internet access is provided as a tool for educational purposes only. Shakopee Public Schools has the right to monitor, inspect, copy, review, and store at any time, without prior notice, any and all usage of the computer network and Internet access including transmitted and received information. All files are the property of Shakopee Public Schools and no user shall have any expectations of privacy regarding such files. Students may be selected, at any time, to provide their digital learning device for inspection.

Password Protection

The student or family may secure the digital learning device with a passcode and it is the responsibility of the student and family to remember the passcode. Never share your passcode, steal or use another person's passcode.

Online Etiquette

Follow the guidelines of accepted behaviors within each school's handbook. Do not use technology to bully anyone, or pass along obscene material or material which is based on slurs or stereotypes relating to race, gender, ethnicity, nationality, religion, sexual orientation, or personal beliefs.

Blogging and/or Podcasting

Use of blogs, podcasts, emails, texting, social media or other tools are considered an extension of the classroom. Expectations for behavior and online etiquette will apply regardless of the tools being used or the setting in which speech takes place.

Plagiarism/Copyright/Licensing

Plagiarism is the act of representing or using someone else's words or ideas as your own. Students are required to give proper credit to all Internet sources used in academic assignments, whether quoted, paraphrased, or summarized. This includes all forms of media on the Internet, such as graphics, movies, music and text. Students must adhere to copyright law regarding software, authorship and copying information. All students should also adhere to the Creative Commons licenses where the author/artist denotes what media may be shared, remixed or reused.

Photos and Video

Students should only take pictures or videos of staff or students with staff permission. Any student use of cameras in Shakopee Schools should be part of a class or club activity.

Malicious Use/Vandalism

Any malicious use, disruption or harm to the district's technology, networks and Internet services, including but not limited to hacking activities and creation/uploading of computer viruses, is a violation of this agreement. No student shall obtain or try to obtain other students' accounts, files, and/or data. Students are NOT to manipulate the operating system or remove or attempt to remove or circumvent the management system installed on each digital learning device. Using or possessing hacking software is a violation of this agreement. Students who attempt to hack or "jailbreak" any Shakopee Public Schools digital learning device will be in violation of this agreement. The use of anonymous proxies, Virtual Private Network (VPN) connections, or similar software to circumvent content filtering is strictly prohibited.

Classroom Expectations

Failure to follow teacher direction in regards to the use of devices/tools/websites during class is a violation of this agreement. If students leave their digital learning device at home they are responsible for completing coursework as if they had their digital learning device present.

Storage & Apps

Storing Documents

There will be limited storage on the device and academic files take priority over personal. Students should backup their files to Google Drive. The district is not responsible for saving, restoring or backing up documents, music, or photos that students may be storing on the digital learning device.

Applications and Content

Students may install apps made available to them through Shakopee Public Schools' Self Service app store. Students may load music and photos on their district-owned digital learning device as long as all content complies with the Acceptable Use Policy. Applications or content that does not have an educational purpose, is not in compliance with the Acceptable Use Policy, or is disruptive to the educational process or at home may be removed from the device. If technology department staff need to restore a digital learning device for any reason, the district is not responsible for any content put on the device by the student.

Use of Online Educational Applications

The Children's Online Privacy Protection Act (COPPA) requires that parents and guardians of children under the age of 13 provide written consent for the access and use of many online services, including academic applications that will be used at school. The district reviews the use of online services to ensure that student data is maintained in a secure manner, that personally identifiable student data is not shared with third parties, and that our use is compliant with district policies related to student privacy and records. A compiled list of online services is available for review on the district website or by request from the school office.

Support

If technical difficulties arise with a digital learning device, or inappropriate content is discovered, the device may be restored by district technology department staff. If staff needs to restore the digital learning device, the district is not responsible for the loss of content stored on the device by the student. It is strongly encouraged that all important data is regularly backed up to Google Drive.

Turn In

Student digital learning devices and accessories will be checked in at the end of each school year at a date and time determined by school administration. Exceptions to the requirement for turning in a device may be available at the district's discretion. Students who graduate early, transfer, withdraw or are expelled will return the device and accessories at the time of withdrawal. Failure to return the property in a timely fashion may result in the involvement of law enforcement.