2023 Teacher & Staff Appreciation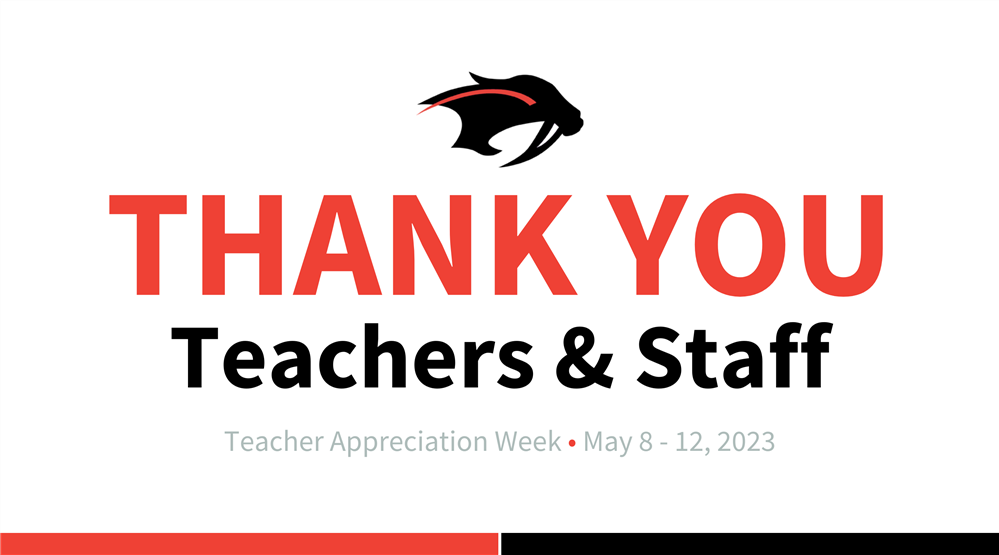 A Message of Appreciation
As Shakopee Public Schools honors our educators and school staff, the community, students and families alike have joined in to celebrate Teacher Appreciation Week! Additionally, May also includes School Lunch Hero Day, School Principals Day, National School Nurses Day and others!

Click on the file below to view recent feedback from the community on the amazing impact educators in Shakopee or select your school of interest to view specific feedback. A special initiative was conducted for Tokata Learning Center.

A Letter from the Shakopee Public Schools Board Chair Kristi Peterson, on behalf of the entire School Board, is also included below.

Thank you for generous donations from various community members including our elementary and middle school PTOs; various volunteers, staff and families; HEART; Cub Foods; O'Brien's Public House; Shakopee Coffee House; Turtle's; Valley Sports; and many more!

It's always a great day to be a Saber with 1,000+ dedicated staff members supporting students and families across the district!

---

Being a teacher is precious, invaluable work

Commentary from Shakopee School Board Chair, Kristi Peterson, soon to be published in Shakopee Valley News' Week of May 8 Edition

As we celebrate Teacher Appreciation week, there are many words that could be used to describe the amazing teachers and education staff that we are fortunate to have in Shakopee.

As a School Board, we want to express our appreciation to YOU, the teachers and education staff of Shakopee, for all that is done to support our students. This time, it's our teachers and education staff that get the extra credit.

Behind every successful student is a team that truly cares about their success, and teachers are no doubt an important part of this team. Our teachers are creative, engaged, dedicated, passionate, caring, inspiring, patient and so much more. They spend long hours preparing lesson plans, grading papers and supporting students who could benefit from extra help. In addition, you will also find many of them leading after-school student activities and athletic programs.

Our students continue to accomplish amazing things thanks to the teachers and support staff that help remove obstacles and encourage students to be their best. If you stop and reflect on your own experience, think…where would we be today without teachers?

As we prepare to graduate the 125th class from Shakopee Public Schools, our School Board celebrates educators across the district- from those that have retired to those that have been committed throughout the years or are new to this amazing profession.

Teachers, YOU made a choice to pursue a career in education, convey a love of learning and spend each day helping students discover themselves, and the world around them. Each day, educators walk into the classroom and make a difference. It truly is precious, invaluable work.

No matter the day, no matter the obstacles, no matter the need…Shakopee educators are committed to our students and for that, we want to remind you - you ARE appreciated. YOU continue to be our heroes and for that, we want to say… THANK YOU!
Saber Pride in Our Teachers & Staff
School Lunch Hero Day - May 2023