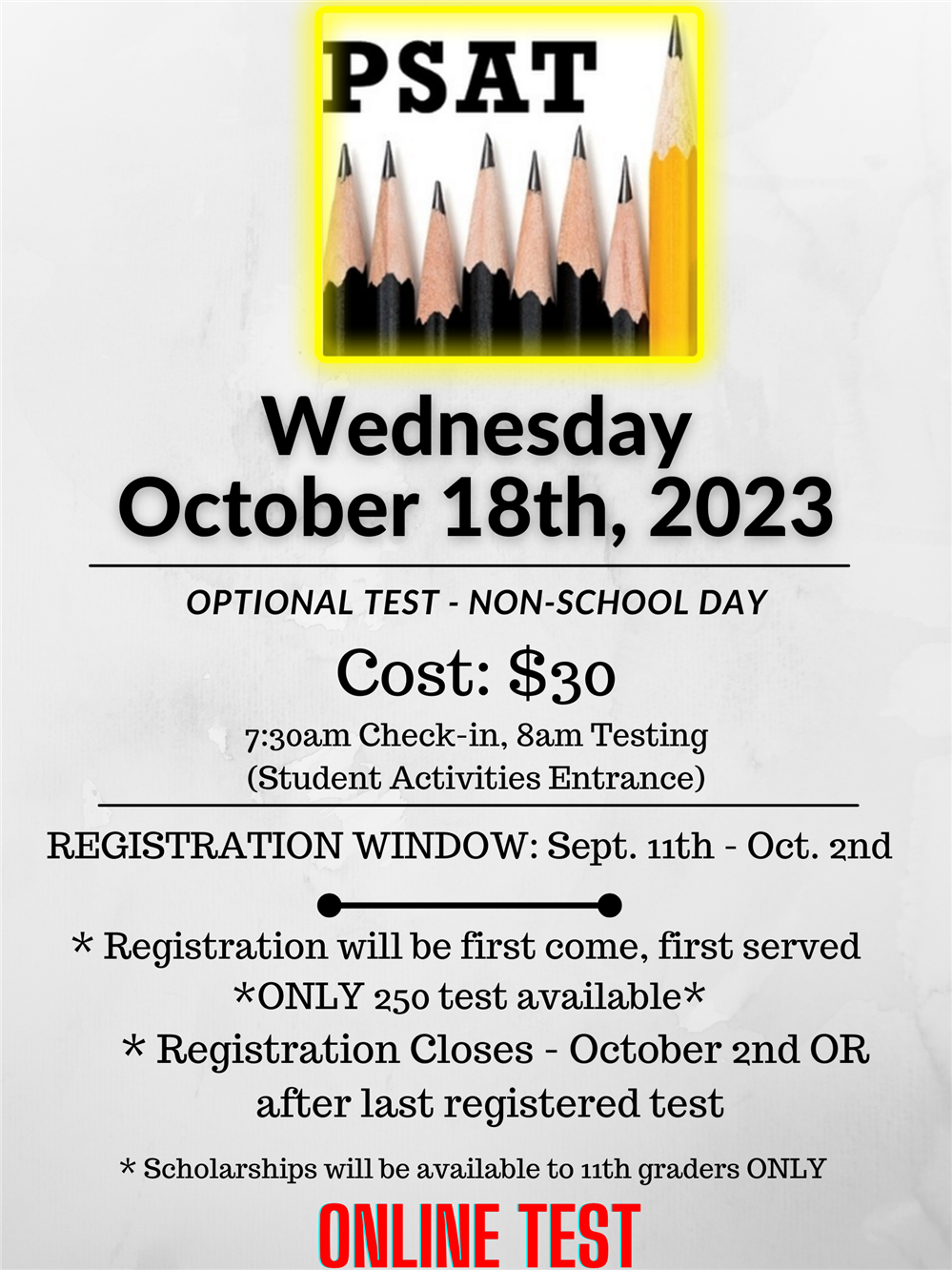 REGISTRATION Window OPENS SEPTEMBER 12th

Register HERE:


www.TotalRegistration.net/PSAT/242375

If you qualify for Free or Reduced priced meals and are in 11th grade the test is FREE for you!

Need to apply for Free & Reduced meals? Apply HERE

***Registration is limited. There is no wait list. Once the 250 tests are reserved registration will close***

11th Grade students are highly encouraged to take the PSAT, as this is the only test that grants them access to the National Merit Scholarship.

Shakopee Public Schools will administer the PSAT/NMSQT (Preliminary SAT®/National Merit Scholarship Qualifying Test) on Wednesday, October 18, 2023 at Shakopee High School.

What is it? The PSAT/NMSQT is a practice college entrance exam that measures critical reading skills, math problem-solving skills, and writing skills. Students like you have been developing these skills over many years, both in and out of the classroom. Unlike some tests, the PSAT does not require you to recall specific facts from your coursework. The test takes about three hours to complete. Here are just a few reasons to take the PSAT/NMSQT:

It provides useful feedback on skills necessary for college study.
It will compare student performance on an admissions test to other college-bound students.
It helps students prepare for the SAT by becoming familiar with the exact format and kinds of questions seen on the SAT.
Students will receive information from colleges when the student checks "yes" to the Student Search Service.
Juniors who take the test will be automatically entered into the National Merit Scholarship Competition as well as other scholarship and recognition programs.
Sophomores gain valuable practice and familiarity that can improve their performance on the ACT, SAT, or PSAT/NMSQT in subsequent years.

Format of the PSAT:

The test is 2 hours and 45 minutes long.
Multiple choice answers will always have 4 choices.
Reading section is 60 minutes long and has 47 questions
Writing and Language section is 35 minutes long and has 44 questions
Math section is 70 minutes long and has 48 questions
Total test is 165 minutes and is comprised of 139 questions

It's never too early to begin preparing for the October PSAT/NMSQT: Excellent free online preparatory materials are available from the College Board. We encourage all students to familiarize themselves with the test format and practice questions before taking the PSAT/NMSQT.

Contact Sarah Jordan (sjordan@shakopee.k12.mn.us) regarding PSAT registration.