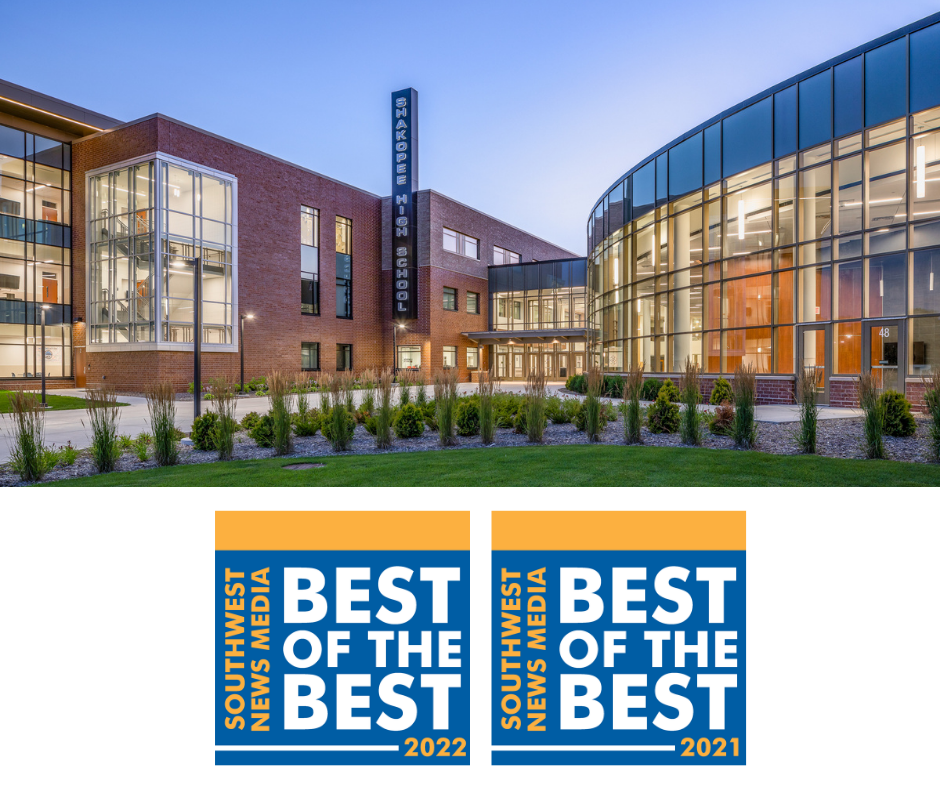 Shakopee High School Receives 2022 'Best of the Best' Public High School Designation

Four Shakopee Elementary Schools & Both Middle Schools Voted 2022 Finalists

Issued April 15, 2022

Shakopee High School recently earned the 2022 'Best of the Best' Public High School designation in the March Southwest News Media publication. This is the second year in a row that Shakopee High School has earned the top spot as voted by the greater community.

In the 2022 'Best of the Best' Public Elementary School category, Eagle Creek, Jackson, Red Oak and Sweeney Elementary Schools were voted finalists in addition to East and West Middle Schools.

Shakopee High School serves approximately 2,775 students with a 2022 expected graduating class of roughly 700 students. Shakopee High School is also home to the Academies of Shakopee, which is only one of two high schools in the State with this learning model that is structured to support real-world experiences through small learning communities within the high school. Over 70 business partners support the Academies of Shakopee with 120+ student internships just this past January - March (2022). Shakopee High School Athletics & Activities have also been recognized in various sectional, regional and state competitions.

According to fast facts provided in the "Best of the Best" Publication, 23,197 votes were cast for businesses and organizations in various categories with 1,067 nominations. The Shakopee community had the greatest number of participants relative to overall votes cast (all categories), followed by Prior Lake and Chaska. Any business or school located in Belle Plaine, Chaska, Chanhassen, Carver, Jordan, Prior Lake, Savage, Shakopee and Victoria were eligible to be nominated.

"I'm not sure what's more exciting - to see our educators, business partners, students and community recognized for their collective work to further education within Shakopee or to see that our community came out in the largest numbers to vote not only in the category of Education, but various others," shared Shakopee High School Principal, Jeff Pawlicki. "We truly have something special and couldn't be in better company."
The Shakopee Public School district serves more than 8,000 students in Shakopee, Savage, Prior Lake and the Jackson, Louisville and Sand Creek Townships. The district is located in one of the fastest growing suburbs in the Twin Cities. To learn more or stay connected, visit Shakopee.k12.mn.us and follow Shakopee Schools on Facebook, Twitter, YouTube and/or Instagram.