2023 Online Family Survey & Community Conversation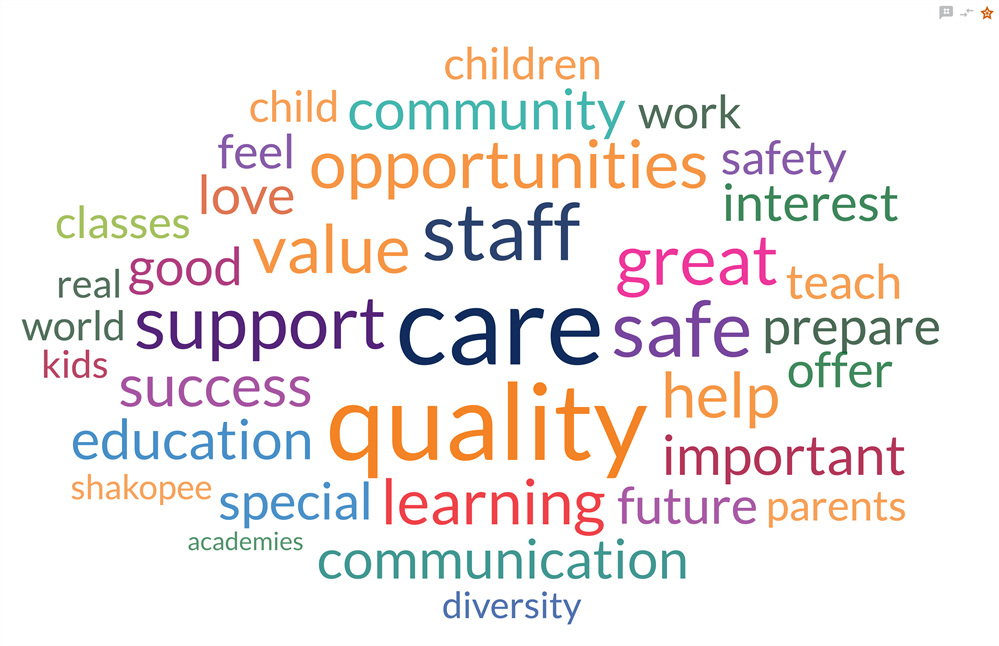 2023 Online Family Survey and Community Conversation

Press Release Issued Wednesday, May 17, 2023. Results shared during a July 2023 School Board Meeting. A summary of results was shared in the Back to School 2023 Edition of Education Forward.

In an effort to keep a continuous dialogue and feedback loop within the Shakopee Public Schools community, a 2023 online family survey and community conversation was conducted in May 2023. The conversation was available online in a multilingual platform called ThoughtExchange.

The District had planned to conduct surveys in 2019, 2020, 2021 and then periodically in future years.

2021, third-party phone survey conducted
2020, COVID-19 pandemic impacted the ability to administer a survey
2019, third-party phone survey conducted

To review 2021 survey data, click here; 2019 survey results can be found here.

One open-ended question was available for group engagement in the 2023 community conversation with 20 close-ended survey questions. 947 community members participated in the conversation with 687 directly engaged in providing open-ended feedback. Roughly 54% of participants have a child in grade E-5 with 37% in grade 6-12; 9% of participants do not have a child in the district.

Why Conduct a Community Conversation?

Keep a continuous dialogue and feedback loop with the community.
Define areas of growth and improvement that can be implemented alongside district vision, mission and overall priorities.
Continue to build trust and an environment with open lines of communication.
Shakopee Public Schools previously conducted phone surveys administered by Baker Tilly in 2019 and 2021.
"We have an incredibly engaged and committed community, and feedback opportunities like this are so very important and valuable to our district, and future."

- Dr. Mike Redmond