It's Always a Great Day to be a Saber!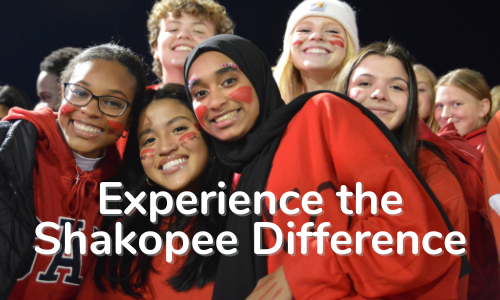 At Shakopee Public Schools, it's more than an education, it's a commitment to our students, staff and community to make a difference, every day. Located in one of the fastest growing suburbs in the Twin Cities, Shakopee Public Schools is proud to serve the Cities of Shakopee, Savage and Prior Lake as well as Jackson, Louisville and Sand Creek Townships. The district directly supports over 8,000 students, has 1,000+ dedicated staff members, 11+ buildings, 1.7+ million square feet of space and over 350+ acres of land, making it a truly unique community with endless opportunity. The community also recently passed a 2021 Operating Levy, allowing the district to provide additional student and operational-based support as well as competitive compensation for educators and support staff.
Mission
Shakopee Public Schools, in partnership with our community, will educate lifelong learners to succeed in a diverse world.
Compelling Vision
It is our moral imperative to change until all of our systems measurably work for each and every student.

It is our responsibility to make sure each and every student receives quality core instruction and develops agency when it comes to their own learning.

Our focus must be on ensuring each member of our organization maintains high expectations and provides unwavering support for each of our student learners.
2023 Saber Fast Facts
770+ Shakopee High School seniors walked across the graduation stage in June (2023) along with the Tokata Learning Center fourth quarter graduation that same month. Click here to read an article on the recent increase in high school graduation rates.

1,700+ middle school students worked to register for 2023/24 classes and are ready to continue exploring their passions and strengths as a Saber.

Saber Online continues to serve select secondary students in an inspiring online environment.

3,000+ student projects at our five elementary schools continually showcase the incredible heart and creativity of all involved.

Pearson Early Learning Center and the Stepping Stones Preschool Program continue to provide critical early childhood support for the community.

1,400+ Volunteers are approved throughout the district.

A 10-year operating levy was passed in November 2021 (effective July 1, 2022) thanks to direct support from the Shakopee Public Schools community.

1,000+ staff members with 350 active substitutes and a continual increase in teachers and staff that reflect Shakopee's student body.

3rd largest employer in the City of Shakopee with staff members from ~85 surrounding cities/locations in addition to Shakopee.